'Pick Up the Phone': Knicks' Julius Randle Remembers Kobe Bryant in an Emotional Admission
Published 04/23/2021, 10:29 PM EDT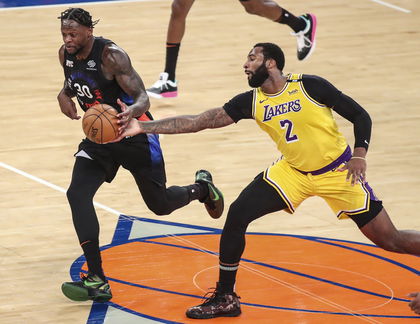 ---
---
The Knicks are arguably the biggest story of this season, especially after their eight-game win streak that's still up and running. The NY-based franchise is #4 in the EC, and this is the first time in eight years that they're playing so consistently well. 
ADVERTISEMENT
Article continues below this ad
The architect of the Knicks' resurgence has been their star forward, Julius Randle. The Kentucky-Wildcats product is having a great sophomore year with the Knicks, and he has much to thank Kobe Bryant for that. 
Knicks' Julius Randle went emotional discussing Lakers' Kobe Bryant
ADVERTISEMENT
Article continues below this ad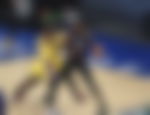 One must never forget his roots and always stay thankful to his first mentor(s). Julius Randle has learned this the hard way after losing his unofficial coach in Kobe Bryant.
The young star joined the Lakers after the organization drafted him #7 in the NBA Drafts 2014. That the Lakers picked him over Zach LaVine, Jusuf Nurkic, and even Nikola Jokic, proves that the man showed huge potential from his early days.
Beyblade was fortunate that he could play alongside Kobe Bryant in the latter's final season in the league. Naturally, the youngster learned like a sponge from the 5-time NBA Champion, and those learnings are now coming in handy.
In a recent interview, the star expressed his respect for the Black Mamba and said with a heavy heart, "Honestly, I think about him every day… I was talking to one of my teammates, he was like bro Kobe probably would have come to the game. Then I was talking to my wife yesterday, it's kind of surreal because it's a journey throughout my career and how everything is going right now. For me, I know, just the relationship that I had with him, he would be proud." 
Read Also – Hall of Famer Nominates New York Knicks Superstar to NBA MVP Consideration
When the Black Mamba helped the youngster out of misery
Today, the fans see an All-star Julius Randle who is averaging a double-double every night. He is shooting at 41% from the perimeter and that has been a defining factor, adding to his career-high numbers. After having a rough last season, it is refreshing to see the man showing leadership in the locker room and making his contribution count.
However, back in the day, something had totally broken him. In his debut game for the Lakers, the rookie in Julius had suffered a fractured tibia in his right leg.
As devastating as it could get, the star almost instantly knew that his season was over. That was when a humble and wise Kobe Bryant had helped him come out of his 'pity party'.
That day, a sobbing Randle received an uplifting message from Kobe, and it definitely became his strength. 
The 26-YO further expressed in his latest interview, "it's tough because I'd love for him to be able to see it [Knicks winning]. For me, personally… even throughout the course of the last season, the ups and downs of this season, just being able to pick up the phone, text, or call him. Just take a little advice or talk whatever it is, you take those things for granted a little bit."
ADVERTISEMENT
Article continues below this ad
Who knows, maybe Kobe is watching him right from the side court, wearing a mask, and rising from his seat after every Randle steal. Amen!
ADVERTISEMENT
Article continues below this ad