'Picked Up That Hustle': Jimmy Butler Gives Credit for His Work Ethic to a Hollywood Celebrity
Published 01/20/2021, 8:30 AM EST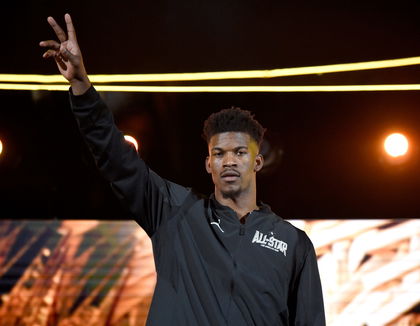 ---
---
Jimmy Butler entered the NBA with the Chicago Bulls. His time with them remained successful as they reached the playoffs 5/6 seasons with Jimmy on the team. The Bulls then traded him to the Timberwolves, and that was when his image hit rock bottom.
ADVERTISEMENT
Article continues below this ad
In Minnesota, his game average took a beating and so did his popularity. His practice with the Wolves especially showed him in a poor light where it was reported that he yelled and got frustrated at his young teammates for their "nonchalant attitude". As a result, they traded him to the Sixers, and then in 2019, he finally settled with the love of his life, the Miami Heat. Since then, a lot has changed in his life.
A whole new Jimmy Butler
ADVERTISEMENT
Article continues below this ad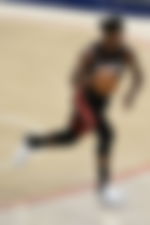 Jimmy G. Buckets was always infamous for not being a team player. That all changed when he found a perfect match in the Miami Heat. He is ruthless in his approach and demands that everyone around him show the same level of competitiveness. He found exactly that in Erik Spoelstra's team; it was a match made in heaven!
As a result, Jimmy bounced back and played in his career's first NBA Finals. But what all did he change personally to get better? In a recently published article, a sportswriter who interviewed Jimmy revealed that Jimmy has been waking up at 4 am. He would practice thrice a day and do it daily without a miss. 
The article quoted Jimmy giving the credit for the change to Hollywood celeb Mark Wahlberg. He expressed, "I picked up that hustle and that grind from him, waking up early and doing it, I really cherish his mentorship, brotherhood, and friendship. He teaches me how to continually get better."
He even spoke at length about the positive difference his daughter's birth has made in his life. 
The Orlando bubble hustle shaped this Miami Heat forward
ADVERTISEMENT
Article continues below this ad
The 31-YO five-time NBA All-star also threw light on his commitment inside the bubble. He was playing to win it all, and there was no doubting that. A newborn daughter was awaiting her father's presence while Jimmy was playing aggressive basketball.
Even when the league allowed the players to call their families, it was the highly professional Jimmy who did not. He was there for business. One can not forget Game 5 from the NBA Finals. Jimmy played for 47 minutes at stretch and scored a game-winning triple-double with 5 steals and a block. 
ADVERTISEMENT
Article continues below this ad
He was so exhausted after the game that he was almost limping. Such was the dedication that allowed him to explain how he would never back down and do anything at odds with his innate character.