'Point Gawd': Stephen Curry, Dwayne Wade & Others React To Suns Reaching NBA Finals After Game 6 Win vs Clippers
Published 07/01/2021, 12:03 AM EDT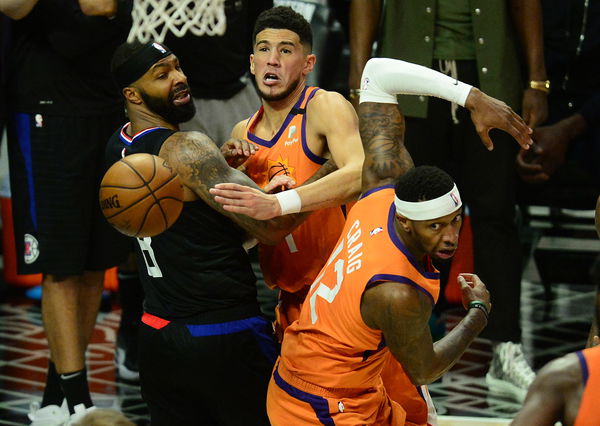 ---
---
The Los Angeles Clippers and the Phoenix Suns entered Game 6 of the Western Conference Finals with two different agendas. While the Clippers were hoping to keep themselves alive for another night by tying the series 3-3, the Suns were in it to win it. Only one of them left with what they wanted to achieve, and it ended up being the Phoenix Suns with a big margin of 130-103.
ADVERTISEMENT
Article continues below this ad
Phoenix Suns get their ticket to the NBA Finals
Almost throughout the season, the Clippers have defied odds and expectations. But they finally lucked out in Game 6 without their best player Kawhi Leonard and key defense unit Ivica Zubac. However, despite all their struggles, they gave the Suns a tough time.
ADVERTISEMENT
Article continues below this ad
The Suns' offense had slowed down majorly after showing efficiency on both ends of the floor throughout the season. Ever since Chris Paul returned from his injury, his scoring wasn't just where it should have been.
But he stepped up at the right moment as he added a whopping 41 points to the scoreboard in Game 6 that has now handed the Phoenix Suns their first appearance in the NBA Finals since 1993.
Unlike when the series began, everyone had faith the Clippers could take this to a game 7. But a tired Paul George, Reggie Jackson, and others couldn't pull off another big night of pouring buckets like Game 5.
So, here is how the NBA fraternity reacted to the Clippers' elimination and the Suns' advancement.
Nah CP WILDING🤦🏾‍♂️

— Tyrese Maxey (@TyreseMaxey) July 1, 2021
✔️ "Don't be surprised if the Suns come out the West" – Big Perk in March

✔️ CP3 is officially Chilling in Point Guard VIP with Magic, Isiah, & Steph

✔️Deandre Max Extension Ayton is a mf problem!

✔️Jae Crowder was going to step up huge in Closeout game!

Carry The Hell On…

— Kendrick Perkins (@KendrickPerkins) July 1, 2021
Mid range killer only real ones know about it 😈

— Monte Morris (@BigGameTae) July 1, 2021
Yo @Suns y'all did that. Respect. Congrats. 16 yrs a long time @CP3 🙌🏽🙌🏽🙌🏽🙌🏽

— Stephen Curry (@StephenCurry30) July 1, 2021
WATCH THIS STORY: Clint Capela's Behind The Board Bucket, Giannis Antetokounmpo's Dunk & Other Top Plays of Bucks vs Hawks Game 4 WCF
What went wrong for the LA Clippers?
Thanks to the balanced scoring effort from four of their starters, the Suns started off with a lead that they managed to keep throughout. Jae Crowder added 19 points, while the other two of the trio, DeAndre Ayton and Booker, had 16 and 22 points, respectively.
Almost every game, the Clippers have shown struggle dealing with Ayton. And tonight was no different.
However, that's not where it went downhill for LA. PG was unable to keep up to the standards he set in Game 5.
Even in the late second quarter, he had only contributed 6 points to the scoreboard. Although he picked up the slack in the second half, it was too late.
Phoenix kept their rivals away from them for most of the game, maintaining their double-digit lead till the end
ADVERTISEMENT
Article continues below this ad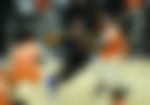 An injury-riddled and worked-up Clippers team missed another shot at the title. But the upside to their loss is they removed the blemishes that had people questioning their potential, especially George.
Do you think if it wasn't for Kawhi Leonard's absence, the result could have been different?
ADVERTISEMENT
Article continues below this ad