'Poke LeBron in His Eye a Lot More': Anthony Davis Gives Props to LeBron James' Shot After Play-in Win
Published 05/20/2021, 3:56 AM EDT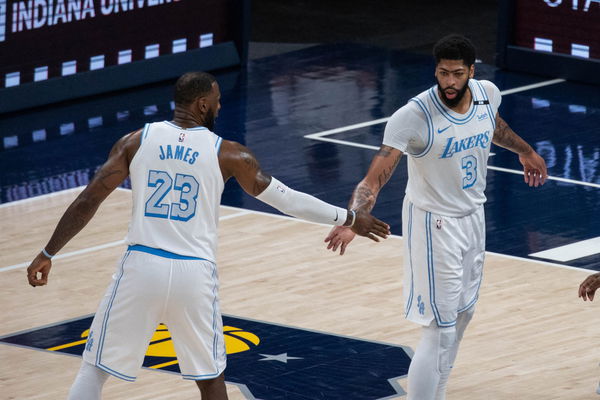 ---
---
The Los Angeles Lakers and the Golden State Warriors put on an instant classic tonight. The Lakers defeated the Warriors in an incredible game that went right down to the wire. LeBron James made an incredible three-pointer to close the game, and the Lakers clinched the seventh seed. It was an incredible second-half performance by James and Anthony Davis, but they didn't start the game well.
ADVERTISEMENT
Article continues below this ad
Anthony Davis praised LeBron James
Los Angeles Lakers forward Anthony Davis spoke after the game about LeBron James. He joked that James should be poked in the eye more if it means he'll make shots like the one he did. But AD gave James props for playing at a high level for all the time that he's known him. He praised James for making the shot that put the Lakers in a winning position and which was crucial for the Lakers' post-season.
ADVERTISEMENT
Article continues below this ad
AD said, "First off I think we need to poke LeBron in his eye a lot more (if) his shots are like that. He's done it his whole career, he's done it since I've been knowing him. Hitting from that type of range, big shot, put us up three. Good defense by us knowing that they're down three, and Steph is going be the guy to try and shoot it."
Lakers struggled against the Warriors
ADVERTISEMENT
Article continues below this ad
Davis added that the Lakers had to do everything in their power to shut down Stephen Curry. And that is what they did in the final stages of the game. The Lakers started the game very poorly, not playing the way that champions do. But they buckled down in the second half and started to get stops. Playing against a team like the Warriors is never easy, but AD was happy with the close win.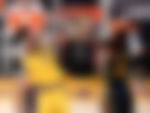 AD added, "We just smothered him, they tried to make someone else beat us. And that's the type of defense we had, especially in the second half. In the first half, we were very lackadaisical, not Lakers basketball, not our defense. We picked up in the second half, and just got going… We know we're not going to be perfect against a team like that. But at the end of the day we came out with the win and that's all that matters."
ADVERTISEMENT
Article continues below this ad
Will Anthony Davis and the Lakers win the title this season?