Blazers' Damian Lillard Joins James Harden, Isiah Thomas, and Others in a Rare League Record
Published 02/18/2021, 5:00 AM EST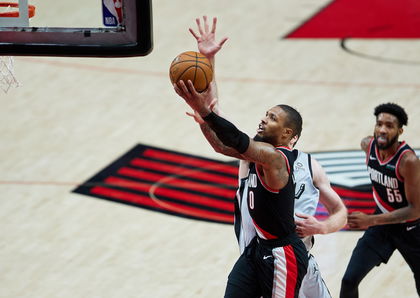 ---
---
The Portland Trail Blazers enjoyed a clutch performance against the Pelicans and defeated them 126-124. The Blazers relied on Damian Lillard's scoring and playmaking, while the 30-YO did not disappoint at any level.
ADVERTISEMENT
Article continues below this ad
With this win, the Blazers have now climbed to the fourth position on the WC ranking and stretched their winning streak to six games. In the last one week, they've earned some clutch wins against teams like the Sixers and the Mavericks, which is helping their confidence. Plus, a performing asset in Damian Lillard is further supporting their case.
Damian Lillard is becoming dangerously effective
ADVERTISEMENT
Article continues below this ad
Wednesday night was Dame Time for the face of the franchise, Damian Lillard. He scored 43 points, 16 assists, 4 boards, 1 steal, and a block. That was a phenomenal 38-minute performance that got his name into the record books. 
This double-double from Dame was very special, given that he had only 21 points and 6 assists until the first half. Then after halftime, the unguardable Dame added 22 points and upped his playmaking by adding 10 assists to his tally. He also made up for that missed buzzer-beater three-point attempt at the end of Q2 by dropping seven three-pointers in total.
This helped the Blazers cut that deficit during the beginning of Q3 and take a stronghold in the game. All of that, without the likes of Jusuf Nurkic and CJ McCollum in the team, makes Dame's back-to-back MVP level performances just exceptional. 
The Blazers flushed Zion Williamson's efforts down in the drain
ADVERTISEMENT
Article continues below this ad
The Pelicans were highly unfortunate to lose this game. Even during the final 10 seconds, they had enough chances to win the game, but their choking under pressure continued. First, Lonzo Ball missed a three-point attempt with seven seconds remaining, even after having a great night from the deep range. Then Brandon Ingram missed his buzzer-beater jumpshot that took any reasons for the celebration away from Zion Williamson. 
Zanos had a 36-point night, but his 12 points in the decisive quarter got wasted when his team could not finish in style. Dame's dominance from downtown cost heavy for the Pelicans, who are now gasping for a victory. 
But do the Blazers have in them what it takes to finish in the Top Three of the conference? Help us know your opinion in the comments.
ADVERTISEMENT
Article continues below this ad
Read also – 'There's No Way To Guard Him': Blazers' Teammate Labels Damian Lillard as Unbeatable