Post Openly Bashing Michael Jordan, Red-Faced Isiah Thomas Shouts "Make It Make Sense!" After Big Dennis Rodman Claim
Published 12/21/2022, 2:26 PM EST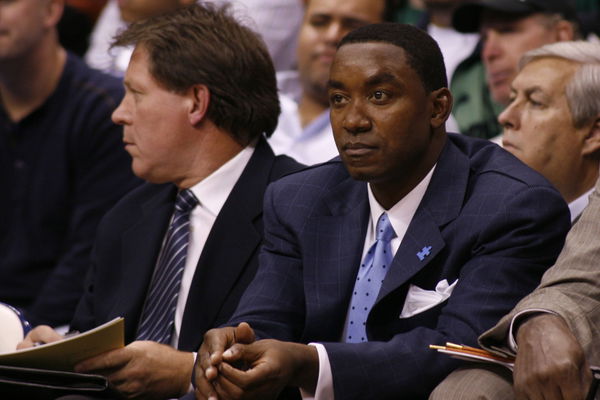 The fierce rivalry between the 'Bad Boy' Detroit Pistons and the Chicago Bulls resonated in the NBA in the 90s. Isiah Thomas was the point guard for the Detroit Pistons in their infamous rivalry against the Bulls. Consequently, Thomas has a storied history against the Bulls and Michael Jordan, in particular. The long-standing beef between Jordan and Thomas is well-documented and is stronger than ever today. Incidentally, Thomas recently detailed his frustrations with Jordan and the Bulls through a passionate monologue.
The 2x NBA champion recently appeared on the Pivot Podcast hosted by former NFL stars Ryan Clark, Fred Taylor, and Channing Crowder. In the episode, among other things, Thomas shed light on his longstanding beef with Michael Jordan. While doing so, Thomas also revealed some shocking truths about the 90s Bulls. 
Isiah Thomas attempted to expose the flawed perception of Michael Jordan and the Bulls
ADVERTISEMENT
Article continues below this ad
While reflecting on his resurfaced beef with Michael Jordan, Thomas didn't hold back on taking shots at his former rival. He vehemently disapproved of the ugly portrayal of him in the famed Last Dance Documentary. Following this, he went on to shed light on the disrespectful behavior of Jordan and his teammates toward the then-president of the Chicago Bulls, Jerry Krause.  
During the podcast, Thomas made a compelling argument how he can't respect the players of a team openly ridiculing the president of their team. He further solidified his case for the Bulls being the actual 'bad boys' of the 90s, by naming players like Dennis Rodman and John Salley, who were poached by the Bulls. He said, "So the Bad Boys, we were so bad, right? I want you to look at the Chicago Bulls championship teams that had Dennis Rodman, John Salley, James Edwards, Robert Parish, they took half our team, and they was bad for us but good for yall?"
After pointing out that Rodman, Salley, Edwards, and Parish were all former players of the 'Bad Boy' Pistons, Thomas exclaimed, "Make it make sense." Frustrated and almost red-faced, Thomas ended the tangent by 'exposing' the Bulls and the fans' perception of them. 
Isiah Thomas is back at it again
Recently, Thomas took to social media to set ablaze a new fire that further broke down his relationship with Michael Jordan. After disapproving of his portrayal in the Last Dance documentary, which was watched by millions worldwide, Thomas deemed it appropriate to take shots at the 6x NBA champion. 
Watch the Story – 5 times Michael Jordan was straight up mean to famous celebrities
According to a New York Post article, Thomas reaffirmed that he isn't backing down from the decade-old feud without Jordan apologizing. Moreover, he declared, "this beef is gonna go on for a long, long time."
Do you think Michael Jordan will ever apologize to Isiah Thomas? Let us know in the comments below. 
ADVERTISEMENT
Article continues below this ad
ADVERTISEMENT
Article continues below this ad
Edited By: Satagni Sikder