Proud Father LeBron James Gets Emotional as Both His Sons Look Set to Carry the Torch of His Legacy: "Simply No Better Feeling.."
Published 08/03/2022, 9:00 AM EDT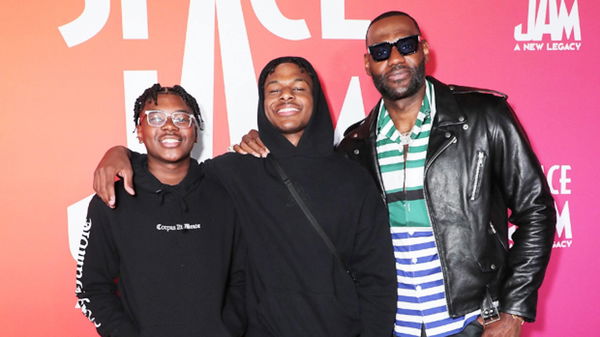 NBA legend LeBron James is undoubtedly one of the greatest ever to play the game. But despite numerous achievements, James still says it is his dream to play with his son in the NBA. And it seems like both his sons may follow in his footsteps in the NBA as they are seen practicing with his coach. And James couldn't be prouder.
LeBron James has two sons, Bronny James, and Bryce James. Bronny is 17 years old and Bryce is 15 years old. Bronny may be headed to the NBA in a couple of years, while Bryce is having a hell of a season and he too may make his way to the league. James has practiced with his sons since when they were kids and he is often seen at their games.
But now, it seems like he has taken it to the next level.
ADVERTISEMENT
Article continues below this ad
LeBron James is proud of both his sons as the family train at the Lakers facility
Phil Handy is an assistant coach of the Los Angeles Lakers and he has been LeBron's trainer for a few years now. He was with him since his Cleveland Cavaliers days and he has won two titles with LeBron so far. James calls Handy an outstanding coach, and his reputation around the league is spectacular.
And it seems like Handy has taken in Bronny and Bryce as well. LeBron James bought both his sons to train with him as he prepares for the upcoming season. The trio went through drills set by Handy and they can be seen going hard at it.
 

View this post on Instagram

 
ADVERTISEMENT
Article continues below this ad
And LeBron James posted on his Instagram about his sons and how proud he was of them. He said, "Simply no better feeling than doing what I love to do with who I love! Great work today Young Kings #JamesGang #EarnedNotGiven" 
WATCH THIS STORY: Timeline of James Harden and Khloe Kardashian's relationship 
ADVERTISEMENT
Article continues below this ad
a 37-year-old LeBron James said he will continue to play in the league until he gets the opportunity to play with his son. But now, he just may have the opportunity to play with both his sons, if things go according to plan. And regardless of what happens, James will undoubtedly be proud of how far his sons have come so far.
Do you think we will see two generations of James' playing together in the NBA one day? Let us know your thoughts in the comments below.