'Put Black Tape Over the Jordan Symbol' – Rapper and Knicks Super Fan Action Bronson Explains Why He Wouldn't Wear Michael Jordan Shoes
Published 04/15/2021, 9:00 AM EDT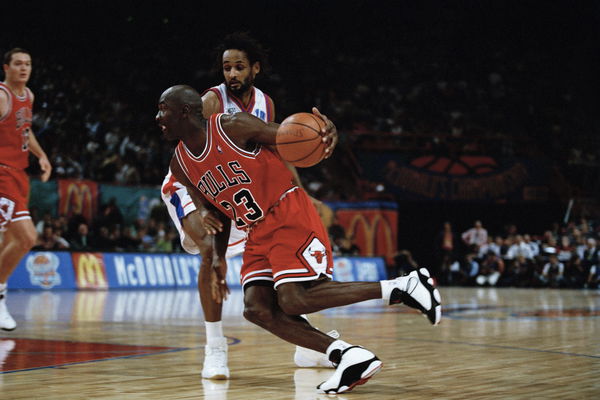 ---
---
Michael Jordan is one of the most revered figures in NBA history. Many fans, past and present, consider Michael Jordan the greatest player to ever play the game. He was one of the most defining figures of world pop culture during the 80s and 90s. However, not every basketball fan admires Jordan, as some franchises have a troubled relationship with 'His Airness'.
ADVERTISEMENT
Article continues below this ad
Action Bronson refuses to wear Air Jordan
Rapper and New York Knicks super-fan Action Bronson spoke to ESPN recently. He was asked whether he as a Knicks fan could ever wear a pair of Jordans. Bronson was curt in his response, saying he would never wear a pair of his shoes. He noted that he wore them once as a kid. Furthermore, he was forced to wear them for a celebrity All-Star baseball game but wanted to hide the iconic logo from the rest of the world.
ADVERTISEMENT
Article continues below this ad He said, "I would never put a g**damn pair of Michael Jordan shoes on… I had them on when I was young and it was a mistake. But when I played in the CC Sabathia Celebrity All-Star softball game, I have to wear them just as a show of respect. But I put black tape over the Jordan symbol."
Michael Jordan is hated by Knicks fans
ADVERTISEMENT
Article continues below this ad
These comments coming from a Knicks fan like Bronson come as no surprise. The Knicks and the Chicago Bulls had a heated rivalry all through the 1990s. After the Bulls were able to get past the Pistons, the Knicks became the new 'bad boys' of the NBA. Jordan and the Bulls would have physically grueling battles with Patrick Ewing and the rest of the Knicks squad. But the Bulls would always get the better of those clashes, which left a poor taste in Knicks fans' mouths.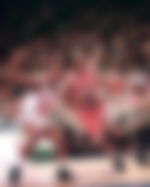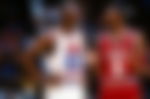 ADVERTISEMENT
Article continues below this ad
While the Knicks-Bulls rivalry is no longer what it once was, fans still have a heavy dislike for Jordan. The New York Knicks of the 90s are considered one of the best teams in NBA history to not win a championship. They always made life difficult for the Bulls, but Jordan and company proved too much to overcome for the Knicks.
Perhaps Knicks fans will never forgive Michael Jordan for the rivalry. But even they have no choice but to admit his greatness. In spite of their personal animosity, fans across the NBA can acknowledge what Jordan did for the league.