Rajon Rondo Opens Up About his Playing Experience Alongside Anthony Davis and DeMarcus Cousins
Published 12/30/2020, 9:01 AM EST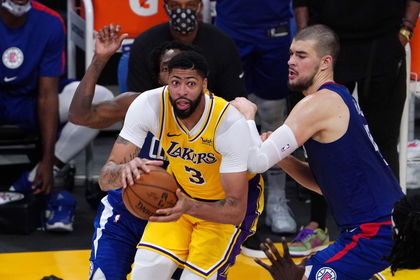 ---
---
The New Orleans Pelicans boasted of an incredible roster about three years ago, but it all fell apart pretty quickly. The team had Anthony Davis and other talented superstars during the 2017-18 season, and the most experienced player on the roster at that time was Rajon Rondo. 
ADVERTISEMENT
Article continues below this ad
Rondo just spent one year in New Orleans, but he found himself playing alongside some real talented players like Anthony Davis, DeMarcus Cousins, and Jrue Holiday. Rondo recently appeared on 'All the Smoke' podcast where he told hosts Stephen Jackson and Matt Barnes about his experience in New Orleans. 
Rajon Rondo hails Anthony Davis and DeMarcus Cousins as incredible talents
ADVERTISEMENT
Article continues below this ad
As mentioned above, the Pelicans' 2018 roster overflowed with talent, and Rondo added a flavor of experience to the team. Anthony Davis and DeMarcus Cousins were two of the biggest names present in the team at that time, and Rondo thoroughly enjoyed playing with them.
Even though the trio played together just for one season in New Orleans, the ex-Boston Celtics star had a fulfilling experience. He even called Davis and Cousins two of his "favorites" on 'All the Smoke' podcast. 
"They're two of the best to do it in the game. When I got with them in New Orleans, I thought I got it all figured out. We had a big three and what was so dope about that is at first, [Cousins] and AD, they would both go try to get 50," Rondo mentioned. 
He then involved Jrue Holiday in the conversation and expressed his feelings about playing alongside generational talents like them. "Them three on the court, you can't stop them," Rondo said of the trio excluding him. 
This trio along with Rajon Rondo helped the Pelicans reach the 2018 playoffs and win the first-round for the first time in ten years. It was an incredible feat indeed, but their run was put to an end by the Golden State Warriors in the conference semi-final. 
Rondo on Boogie Cousins
The spectacular trio of Rondo, Anthony Davis, and DeMarcus Cousins just played together for one year, after which they switched teams. It was Rondo's first time teaming up with Davis, but that wasn't the case when it came to Cousins. 
Prior to joining the Pelicans, Cousins and Rondo were teammates for a year with the Sacramento Kings, where the latter learned a lot about how dominant Cousins' game was. 
"If he smells blood, he's gonna eat blood," said Rondo when describing Cousins' quality. "He's one of my favorite teammates of all time, I love playing with him. I think he's one of the best ever to do it," the 2008 NBA champion added.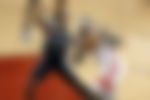 This was indeed an immense level of praise from one great player to another, but Rondo had more. In fact, he made a massive comparison, something which would make Cousins take pride in his game.
ADVERTISEMENT
Article continues below this ad
"The shit that he used to do on film that you didn't even see, unreal. He reminded me a bit about KG."
ADVERTISEMENT
Article continues below this ad
We all know how great Kevin Garnett was, and for Rondo to compare him with Cousins, it speaks volumes about the latter's talent. Cousins is an extremely talented player, who's now entered a new chapter in his NBA career with the Houston Rockets.