Rajon Rondo Opens Up About Playing the Veteran Role for Atlanta Hawks' Trae Young
Published 12/25/2020, 6:00 AM EST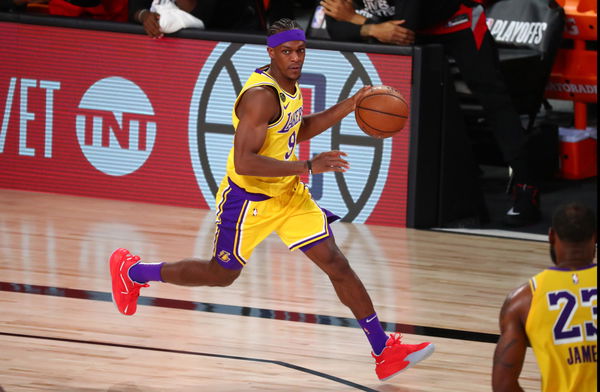 ---
---
After being in a team with immense experience and then moving to a team with hardly any won't be an easy transition for Rajon Rondo. He recently signed a 2-year deal with the Atlanta Hawks for $15 million. After being in the NBA for 15 years, this is going to be the first time he is the oldest player on the roster. Naturally, being the veteran, he will be the guiding force for the others on the team, especially Trae Young.
ADVERTISEMENT
Article continues below this ad
When he was with the Los Angeles Lakers, Rondo played a vital role in their success. If it weren't for his playoff Rondo alter ego, they might have not even won their 17th NBA championship.
Rajon Rondo is thrilled to impart knowledge to Trae Young
ADVERTISEMENT
Article continues below this ad
On 'All The Smoke', Matt Barnes and Stephen Jackson were joined by Rajon Rondo. Jackson asked Rondo about how he felt being the veteran on the roster and the person a young star like Trae Young would now look up to.
"I am very excited," Rondo stated. "We've been in the gym a couple of times already, just kind of picking each other's brain and getting some shots together. So he seems like a sponge. And I am ready to give him whatever I have. Obviously, try to lead him to the best point guard he can possibly be… I am excited to teach him and all the other young guys as well."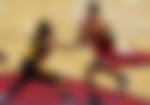 Rondo's veteran presence can play a huge role in bringing Atlanta the success that they've been missing for so many years. However, apart from being a veteran, Rondo also has other value to add.
What does Rondo bring to the table for the Atlanta Hawks?
ADVERTISEMENT
Article continues below this ad
Rondo is a guy who was once a steals champion and a positive perimeter defender. Even though he has been named in four all-defensive teams, his injuries and age have caused hindrance from reaching a new defensive ceiling. However, with players like Kris Dunn and Onyeka Okongwu, Rondo can be quite effective on the defensive end.
The only drawback to Rondo is his consistency. If he plays the way he plays during clutch games or the playoffs, even in the regular season, the Hawks have a great chance to land a place in the playoffs.
ADVERTISEMENT
Article continues below this ad