Ray Allen Reveals Who is the Greatest Shooter of All Time Over Warriors' Steph Curry
Published 02/13/2021, 11:00 AM EST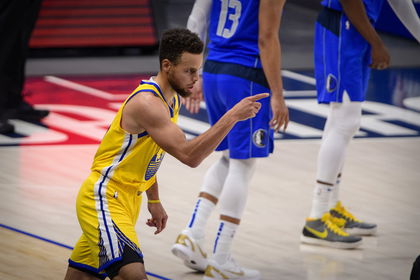 ---
---
Steph Curry is arguably the greatest shooter the NBA has ever seen. His offensive prowess as a prolific shooter has changed the course of modern NBA, where three point shooting has become a big factor.
ADVERTISEMENT
Article continues below this ad
Three weeks ago Steph passed legendary shooter and Hall of Famer Reggie Miller as the 2nd highest number of three-pointers made in NBA history, cementing his position as one of the best the game has ever seen.
He is only topped by 2-time NBA champion Ray Allen, who has made a staggering 2973 career threes. The 46-year-old recently had an interview with CBS. In the interview he revealed who according to him is the greatest shooter of all time.
ADVERTISEMENT
Article continues below this ad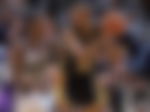 "Reggie [is the GOAT] because of the way he set the game up, the way he played the game. Obviously, I incorporated a lot of who he is into how I played.
"He was the standard-bearer. Without him, we don't have a formula for moving forward. So that's how I view it because it allowed me to do the things that I was capable of doing." 
Miller and Allen share a great relationship off the court. Reggie even presented Ray Allen to the 2018 Hall of Fame.
Ray Allen explains how Steph Curry is different from other shooters
The 46-year-old in the same interview also explained what makes Steph Curry different from other shooters. He said, "I think it comes with categories when you talk about shooters. Steph is in a category of his own, the way he plays the game."
Allen explained why Curry's teammate Klay Thompson is more of a traditional shooter. "When I think about shooters, someone like Klay Thompson comes to mind.
"He's more in the realm of how I shot, how Reggie [Miller] shot — coming off screens, moving without the ball."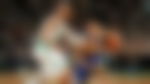 He added, "Steph is more on the ball, the point guard shooter. So it's a different approach to the game. He's an extremely incredible ball-handler, so it's a different mentality when you're handling the ball and not coming off screens."
ADVERTISEMENT
Article continues below this ad
Steph has been one of the most influential shooters in the modern NBA. He somehow makes the most impossible threes on the court and given how efficient he is from the volume of threes he attempts, it is absolutely ridiculous.
In the 725 games he has played, he has already made 2626 threes in his career. That is around 3.6 threes made per game. That number is significantly higher than that of Reggie Miller and Ray Allen. Curry has taken the advantage of the changing game.
ADVERTISEMENT
Article continues below this ad
This season he is attempting a staggering 11.6 threes per game and making 5 threes per game. Curry is on pace to overtake Ray Allen in a season or two, and will become the most prolific perimeter shooter in the NBA.