"Really Took the A** Whopping!": 11x NBA All-Star Unveils Dark Side of Revolutionizing the League in a Big Way
Published 02/19/2023, 3:35 PM EST

Follow Us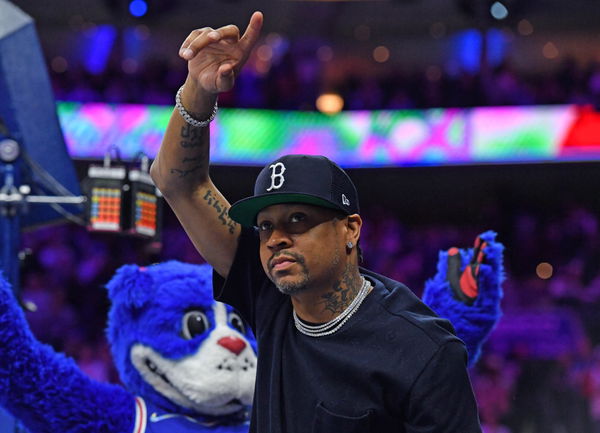 The NBA All-Star weekend witnessed a host of celebrities, stars, and Hall of Famers grace the occasion in Utah. Likewise, Philadelphia 76ers legend Allen Iverson also graced the occasion amid all the festivities. Very few players have singlehandedly revolutionized the game of basketball in the NBA's illustrious 76-year history. But a few enigmas, like Iverson, Stephen Curry, and Michael Jordan, among a select others, have drastically changed how we approach certain aspects of the game. More often than not, these legends have been showered with praise and glory for their revolutionary contributions to the game. 
However, Iverson faced many challenges for ushering in his 'revolution' in the early 2000s. While reflecting on those eventful days, the 4x Scoring champion revealed the dark side of his actions in an interview during the All-Star weekend. 
Allen Iverson addresses the harsh reality of his 'revolution'
ADVERTISEMENT
Article continues below this ad
The league witnessed a massive cultural shift when Allen Iverson arrived on the scene in the late 90s. The Hall of Famer ushered in the unprecedented hip-hop and fashion culture into the NBA circles. Consequently, he revolutionized the connection between the NBA and the hip-hop and entertainment industries. NBA superstars were no less stylish than Hollywood's biggest names, and AI led them all. Draped in baggy hip-hop outfits, chains, cornrows, and tattoos, Iverson took the NBA world by storm with his fashion. 
Most joined the revolution, and fans seldom objected to their favorite stars being able to express themselves. However, an agitated minority in the basketball community and, of course, the league office, were not fans of the movement. Consequently, David Stern and co. took drastic measures to shut down the movement and even reprimanded Iverson in major ways.
Reflecting on these trying times, Iverson recently spoke about his influence on fashion in the NBA. While talking to Andscape at the NBA All-Star weekend, Iverson said, "I love it. I love it. I love it. It's kind of bittersweet. Obviously, I've said it a million times before, because I really took the a– whupping for it."
ADVERTISEMENT
Article continues below this ad
 "But now we fast-forward to 2023, these guys are being able to express themselves and look the way they want to look and really show their personality in the way they dress. And I think I had a lot to do with that and I feel that's cool," he added.
What is your most favorite memory of AI? Let us know in the comments below. 
ADVERTISEMENT
Article continues below this ad
Watch the Story – How many All-Star games did Kobe Bryant play?
Edited By: Satagni Sikder