"Redo Your Tweets Now Mot**f*!": Ty Lue Erupts In Relief After Clippers Pull Off Historic Comeback vs Wizards
Published 01/25/2022, 11:42 PM EST
The Los Angeles Clippers just pulled something spectacular out of the bag against the Washington Wizards. They were down as much as 35 points and they came back to win in the dying seconds. This was the second-biggest comeback in NBA history as the Clippers won 116-115.
The Wizards took an early lead in the first quarter as the Clippers came out cold. It became worse for the Clippers in the second quarter as they ended the half with a 30 point deficit. They were down by 35 points at one time. However, they rallied back in the third quarter as they cut the deficit to 17 points.
ADVERTISEMENT
Article continues below this ad
The Clippers started the fourth quarter on an 8-1 run as they cut the lead to single digits. But the Wizards held on to this lead until a wild 25-second sequence in the fourth quarter which cost them the game.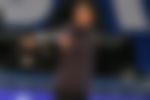 Ty Lue, the coach of the Clippers, was ecstatic after the victory. He let everyone hear it after they made the improbable comeback.
Ty Lue sees me coming down the hall, in front of whole coaching staff:

"RE-DO YOUR TWEETS NOW MOTHERFUCKAAAA"

— Law Murray 🎂 (@LawMurrayTheNU) January 26, 2022
Los Angeles Clippers win the game in a wild 25-second sequence
ADVERTISEMENT
Article continues below this ad
Even though the Clippers rallied back to cut the Wizards' lead; they were still down by 6 with 25 seconds to go. Montrezl Harrell missed a free throw, and the Clippers got it down for a dunk by Amir Coffey. Then Kuzma got fouled, and he missed one free throw, but he made it a 6 point lead. Clippers called a timeout with 10.5 to go.
They inbounded the ball to Luke Kennard, who fired a deep 3 from near half-court to make it a 3 point game. The Wizards called timeout as they were unable to inbound the ball, but they still ended up getting a 5-second call on the following possession. The Clippers inbounded the ball with 8.2 seconds to go.
ADVERTISEMENT
Article continues below this ad
They got the ball down and Justice Winslow set a good screen to get Luke Kennard a quality look. Kennard was fouled in the act of shooting by Bradley Beal and he made the three-point shot that tied the game. He then hit the free throw to complete the comeback, as the Wizards couldn't get a shot off in time. The Wizards were shellshocked and stunned after they blew a 35 point lead.
WATCH THIS STORY: LeBron James compares himself to Tom Brady and Michael Jordan