Reggie Miller Explains How Jae Crowder's Bouts With LeBron James Will Enable Phoenix Suns to Defeat Nuggets
Published 06/08/2021, 3:30 AM EDT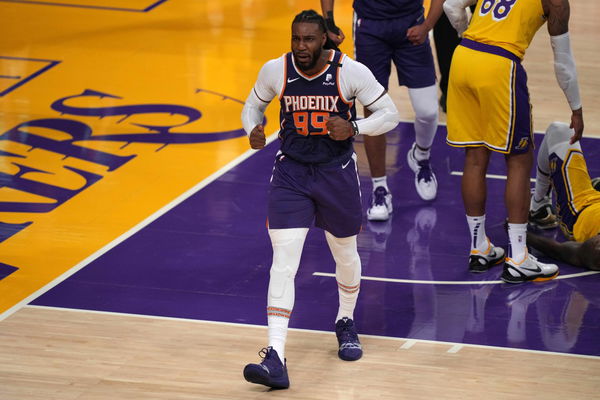 ---
---
The Phoenix Suns and Denver Nuggets had a competitive Game 1 in which the Suns triumphed. While the match was a tug of war for the lead until half-time, the Suns turned it up a notch and took a commanding double-digit lead after which there was no turning game. With their 122-105 win, the Suns have plenty of players to thank, including Jae Crowder. Reggie Miller seems to think that Crowder's rivalry has made him an even better player.
ADVERTISEMENT
Article continues below this ad
Feud with LeBron fueled Jae Crowder and Suns to victory
The Los Angeles Lakers matchup with the Suns not only crushed their attempt at a second straight title but embarrassed LeBron beyond measure. From Twitter fans, former NBA players, and analysts, there is nobody who didn't take a shot at his legacy.
ADVERTISEMENT
Article continues below this ad
However, there is someone who was standing up to Bron on the court as well. This was Jae Crowder, who has a bit of a rocky history with LBJ already. Their animosity was more than evident last season in the NBA Finals as well when Crowder was playing for the Miami Heat.
In fact, after butting heads in the Eastern Conference finals in 2017, Crowder even joined forces with LeBron and the Cavaliers. However, Jae's trade later sparked a war of words between him and Bron. This eventually erupted on the court this season in Game 1. With LeBron out and Crowder playing for the current title favorites, legendary Reggie Miller seems to think that their rivalry worked in Crowder's favor.
On the Dan Patrick Show, Patrick spoke about how Crowder was not at all afraid of Bron. To this, Miller said, "I think that gave the inexperienced Suns, other than Chris Paul, life. Juice. It's going to be that toughness that is why they will prevail in seven games versus Denver."
WATCH THIS STORY: Teammates of Michael Jordan That Hardly Made Any Contribution to the Chicago Bulls Dynasty
ADVERTISEMENT
Article continues below this ad
How far will the Phoenix Suns go from here?
With the way the Suns have climbed through the ranks this season, they are definitely one of the title contenders. In fact, they are also the ones predicted to win this series against the Nuggets.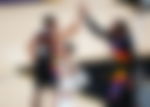 As long as they maintain this momentum and don't let Nikola Jokic's wrath rattle them, the Suns should be good to go. A headstart in the series has taken some pressure off them. And it looks like Reggie Miller is right; if the Suns have a player who isn't scared of a legendary player like LeBron James, there is no stopping them.
ADVERTISEMENT
Article continues below this ad