'Reminds Me of Me': Heat Legend Dwyane Wade Details How Donovan Mitchell Resembles Him
Published 01/12/2021, 11:30 AM EST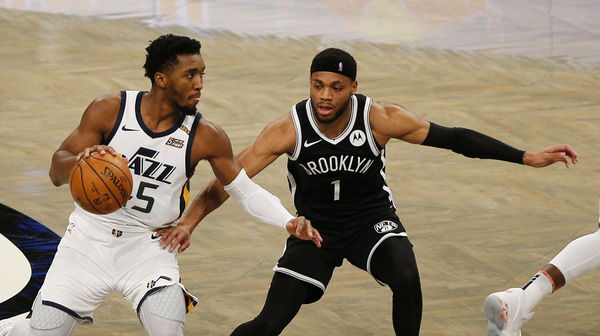 ---
---
Being an NBA rising star comes with plenty of perks, but some may consider it a con. The reason behind this is that a budding superstar is always compared to one of the NBA's greats, and this is unavoidable. Just like that, the Utah Jazz talented young guard Donovan Mitchell is constantly compared to Miami Heat legend Dwyane Wade.
ADVERTISEMENT
Article continues below this ad
But isn't it also an honor when the legend himself believes that this is the player that resembles me most. Well, it looks like it's Donovan's lucky day.
Donovan Mitchell is a Dwyane Wade 2.0?
ADVERTISEMENT
Article continues below this ad
In an interview with Wade, he was asked which player of this generation does he think resembles his game the most. "I would say, Donovan," he asserted. "He has a way better shot than I had. But obviously, it's a time, it's a generation, you better have that or you're not going to be successful."
He started to draw a comparison and said, "I feel like we're both similar in body structure and types. Similar height. Our dynamic, when it comes to our ability to penetrate, finish. He's very creative. I thought I was a very creative player. I don't think I got enough credit for how innovative or creative I was on the basketball floor.
"With the mini moves and the different things that I had in my repertoire. I didn't have a go-to. I had 7,8 0r 9 go-to's. So, I feel like Donovan is in that same caliber. And his career might possibly be better than mine. But I feel like that's the player I look at and say, he reminds me of me," he concluded.
Last season's battle
ADVERTISEMENT
Article continues below this ad
The first round of playoffs barely have any excitement but last season's matchup between the Utah Jazz and Denver Nuggets had everyone glued to their screens. All thanks to the duel between Donovan Mitchell and Jamal Murray, both of whom scored more than 50 points multiple times in the series.
Although Jazz was eliminated, Mitchell proved to everyone that he was a future superstar. In fact, Utah didn't take long to realize that and handed him a five-year maximum contract worth $195 million this offseason.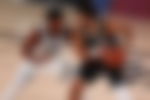 The Utah Jazz is going great this season. They are standing with a 6-4 record in the competitive West. Jazz fans can only hope that Mitchell's hard work pays off this time and they go past the first round of the playoffs.
ADVERTISEMENT
Article continues below this ad
Trending Stories