REPORT: 29 Year Old NBA Champion Possibly Set To Leave Stephen Curry To Join Luka Doncic At The Mavericks
Published 06/29/2022, 3:30 PM EDT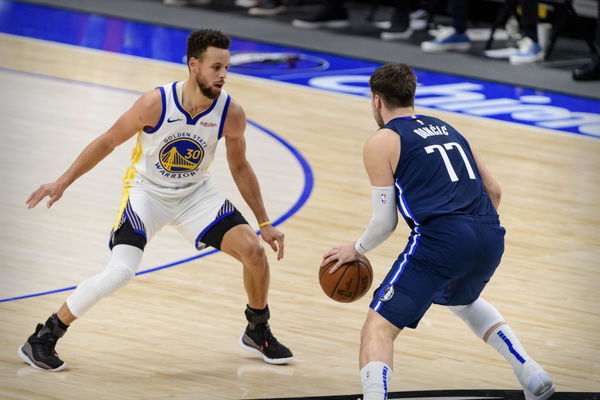 Just a few days after winning the NBA championships, rumors are swirling around the Warriors camp. With the Warriors adding three young prospects from the NBA draft, there's a possibility of some more changes around the team. Stephen Curry was tremendous for the Warriors all season. With Klay Thompson coming back from injury this season, he also marked his importance to the team. Moreover, as he always is, Draymond Green was once again vital for the structure and gameplay of Steve Kerr.
ADVERTISEMENT
Article continues below this ad
While the three big stars of the team had a big impact on the season, the other players also had a role to play more than one could imagine. Andrew Wiggins really came into his own, and for the first time in his career really showed why he was the 1st pick when he was drafted. Otto Porter Jr. and Kevon Looney were two more players who had some important moments over the season.
WATCH THIS STORY: All you need to know about Gary Payton II.
ADVERTISEMENT
Article continues below this ad
Moreover, Gary Payton II was another star who really showed his worth. Game in game out, he was an important team player. Steve Kerr himself mentioned many times that he was important. However, reports suggest that he might be leaving the Warriors next season.
Not only the exit, but the reports also suggest the next location for Gary Payton II. As of now, the Dallas Mavericks seem like the most serious suitor for GP2. This means that Gary will play with Luka next season.
Things are still in the hypothetical stage of things. Both sides are yet to decide a lot. These are still early days and these are early reports regarding the Warriors' free agency situation.
Who will be better suited for Gary Payton II — Stephen Curry or Luka Doncic?
Last season, Gary showed that he can become an important part of the Warriors setup. He was an important bench player for Steve Kerr. The Warriors' gameplay was very much dependent on rebounding, ball movement, and shooting. Obviously, with Steph, Klay, and Jordan Poole in the ranks, others do not have to worry about shooting that much.
But the rebounds were just as important for their title-winning run. Moreover, Gary Payton II showed his talents of him being a great anticipator. He was good at rebounds, as he and Andrew Wiggins did really well in that department.
On the other hand, joining the Mavericks might give him an opportunity to become a starter. He would obviously have more responsibility there because of the difference in the style of play. While the Mavs do move the ball around, they depend on the likes of Luka Doncic to carry forward. He is brilliant at what he does and rightfully so the game revolves around him. 
ADVERTISEMENT
Article continues below this ad
Now considering the talents and potential this season, it is safe to say that the players in the Warriors roster each understand their roles and do it well. Gary Payton II considerably should continue at the Warriors because he has done well. He can work on doing everything he knows better in his team.
ADVERTISEMENT
Article continues below this ad
Whereas joining the Mavs would be a new challenge. However, the Warriors will lose an important part of their championship-winning squad. It will be interesting to see what unfolds in this saga going forward.
What do you think Payton should do? Let us know in the comments!