REPORTS: Kevin Durant May Lose Ben Simmons Without Playing a Single Game Together as Trae Young Looks on
Published 05/11/2022, 3:13 PM EDT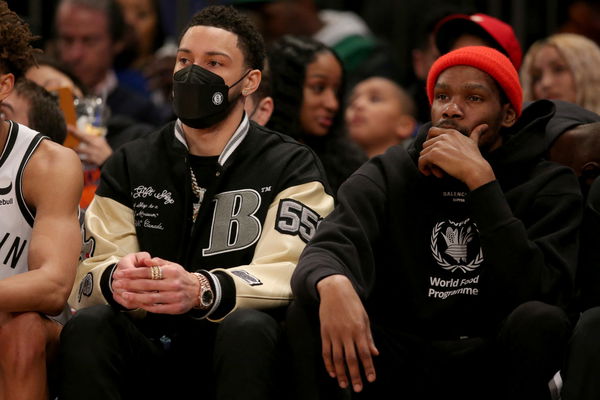 The Ben Simmons and James Harden blockbuster trade was one of the most talked-about last year. Fans and analysts were sharing their opinion about who won the trade. Many thought that the Nets would be a force to be reckoned with due to Simmons' addition. He is still relatively young and hasn't peaked yet while Harden's MVP days are behind him.
Fast forward to the 2022 NBA playoffs, Simmons hadn't played a single second for the Brooklyn Nets. And the Boston Celtics swept Kevin Durant and the Nets in the first round of the playoffs. While there were reports saying that Ben would play in game 4, he didn't as he sighted back issues.
ADVERTISEMENT
Article continues below this ad
Now there are reports that suggest that Ben could be on his way out of Brooklyn without ever playing. The Nets are disappointed with how the Ben Simmons trade has turned out so far. And are reportedly on the lookout for potential suitors as they look to cash in on him.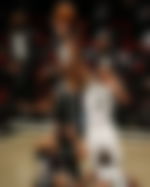 Even though his value isn't as high as used to be, the Nets obviously don't want it to go further down.
Ben Simmons to Atlanta Hawks
There are reports that claim the Atlanta Hawks are one of the front runners to land the Australian. It is still not clear what the Nets would receive in return as they aren't in a position to bargain at the moment.
If this trade goes through, we will get to watch Trae Young and Ben Simmons playing alongside each other. And this could be one of the best backcourt duos in the NBA. 
Ben's shooting issues are no secret while Trae's lack of physicality haunts him in the playoffs. They could complement each other on the court with Ben being the facilitator and Trae getting more catch and shoot opportunities. A healthy Simmons would also provide good cover on the defensive side of the game. 
Simmons underwent back surgery recently and is expected to have a recovery period of a couple of months. And it is widely believed that he will be ready for next season's training camp. 
ADVERTISEMENT
Article continues below this ad
But potential suitors would also look at his history of commitment issues and competitiveness. A scouting report of Ben Simmons during his time with LSU resurfaced last year. The scout questioned his competitiveness and his coachability. But this didn't stop the Philadelphia 76ers to select him as the #1 draft pick in 2016. However, it turned out sour in the end. 
WATCH THIS STORY – Stephen Currys Holey Moley: Warriors Superstars Love For Golf Taken to the Next Level
ADVERTISEMENT
Article continues below this ad
Also, Ben Simmons has multiple times dropped out at the last minute from the Australian National team after committing first. 
Only time will tell what the future holds for Ben Simmons and the Brooklyn Nets. And it will be interesting to watch.