REPORTS: Lakers Planning Mega Kyle Kuzma Trade Ahead of NBA Draft 2021
Published 07/29/2021, 11:52 AM EDT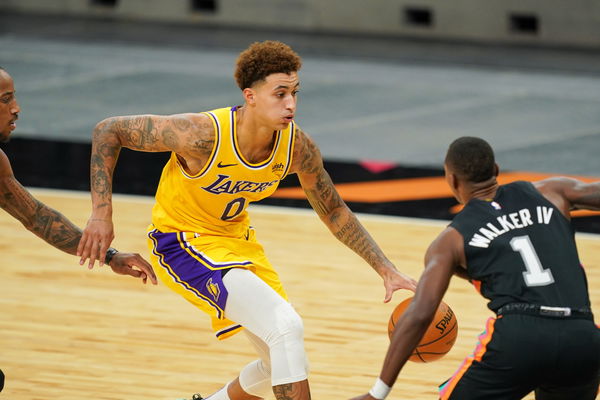 ---
---
It is officially NBA Draft Day. With the latest batch of freshmen athletes bound for the NBA, teams will be active in the trade market. As the 17-time champions Los Angeles Lakers are looking to make a big splash this offseason, Pelinka will be a busy man. In fact, L.A. has already been actively shopping combinations of Kyle Kuzma and KCP in a variety of trade and F.A. rumors doing the rounds.
ADVERTISEMENT
Article continues below this ad
L.A., who have the number 22nd overall, are looking to package the draft pick along with Kuzma amongst others in the search for an All-Star caliber player. While Los Angeles have been part of almost every single rumor surrounding a perimeter specialist, Joe Ingles is the latest candidate to enter the discussion with less than 12 hours to go.
ADVERTISEMENT
Article continues below this ad
Ingles was the runner-up for the NBA's 6th Man of The Year award, in a season that saw his true shooting improve leaps and bounds. The Aussie star also just ended 2021, averaging 12.1ppg/3.6rpg/4.7apg shooting at 45.1% from beyond the arc! That is huge for the Lakers, whose Achilles Heel last season was the volume from behind the arc.
Kyle Kuzma set to depart from Hollywood
With a few hours left prior to the draft, the Lakers are reportedly being met halfway by the Utah Jazz looking to move up in the draft. The Lakers' Rob Pelinka have put up the deal on the table which sends Kuzma to Utah along with the 22nd pick, for landing Ingles and Number 30 overall tonight.
NBA DRAFT & TRADE BUZZ

Could the Lakers and Jazz make a draft night deal? The Athletic's @Tjonesonthenba said on my podcast, pick 22 and Kyle Kuzma for pick 30 and Joe Ingles could be a possibility. https://t.co/JlgSHVoJhl

— Chad Ford (@chadfordinsider) July 28, 2021
With a 110.7 defensive rating and a consistent shot from the 3, Ingles would be an excellent replacement for Kuz, who was practically a no-show these past 2 seasons.
But, Ingles has been average in the playoffs, scoring at 10.2/3.1/3.5 a game, with his 3pt and overall FG % shrinking when it matters most.
However, Lakers fans have been calling for Kuzma's head since their loss against Phoenix and are quite happy to trade him for basically nothing! Having said that, it's time for a split up, based on mutual interest.
ADVERTISEMENT
Article continues below this ad
Kuz is a proven Number 1 or 2 option, but just in a different uniform from next season.
Following a Lakers collapse against Phoenix in the postseason, Rob Pelinka has been rather aggressive as he looks to maximize on an aging LeBron and prime AD who are also their biggest salary slots.
ADVERTISEMENT
Article continues below this ad
Will acquisitions like Joe Ingles, a reported push for Buddy Hield, or FA Carmelo Anthony, elevate the Lakers to see eye to eye with the Brooklyn Nets or the Milwaukee Bucks in 2021-22?
Watch this story – Damian Lillard, Ben Simmons, & Other NBA Players Who Will Be Trending During Trade Talks