Reports Reveal Giannis Antetokounmpo Suffered With Cramps Post Game 5 Win Against Suns
Published 07/18/2021, 8:55 PM EDT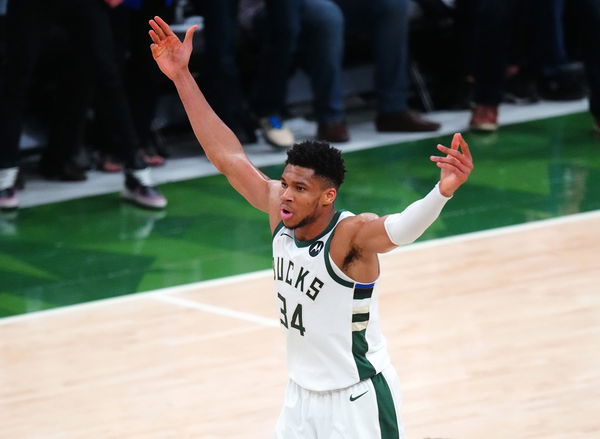 ---
---
The Milwaukee Bucks took on the Phoenix Suns in game 5 of the NBA Finals last night. With the series tied 2-2, game 5 was a must win for Giannis Antetokounmpo and Co. of they want clinch the Finals.
ADVERTISEMENT
Article continues below this ad
Giannis and Co. started off the game in the back foot as Chris Paul and the Suns took a 16 point lead. But the Bucks quashed the same in a dominant second quarter scoring a mind-boggling 42 points.
ADVERTISEMENT
Article continues below this ad
There was no separating the side since then as both the teams went blow for blow. But in the decisive fourth quarter, the Bucks' defense stepped up. In one such possession Jrue Holiday who is known for his defense, stripped the ball off of Devin Booker's hands and threw a lob for Giannis, which was the exclamation point by the Bucks to win the game 123-119.
With this win, the Bucks are in cruise control of the Finals and have all the momentum in the world with a 3-2 lead. Playing game 6 in the Fiserv Forum, Milwaukee will look to close down this finals series at home and win their first NBA championship in 50 years.
Giannis Antetokounmpo suffers from cramps after game 5 victory
With his latest 32 point double double, Giannis Antetokounmpo showed why is a 2-time MVP. Despite suffering from a hyper-extension to his knee, the 'Greek Freak' has made a solid return in the Finals and have performed on both ends of the floor.
But the 26 -year-old might have endured some injuries after their game 5 victory against the Suns. According to NBA insider Jeff Zillgitt, Giannis was battling through some cramps before his post game presser.
Giannis Antetokounmpo battling some cramps postgame and hasn't met with the media. Word has been relayed to us that he wants to speak directly with us and asked media to wait until he feels comfortable enough to sit down and talk.

— Jeff Zillgitt (@JeffZillgitt) July 18, 2021
Antetokounmpo initially did make an appearance in front of the camera but immediately left the room without even answering a single question from the media. The Greek Freak eventually did return for a presser after some time but it is apparent that the 2-time MVP is feeling sore with some muscle cramps.
ADVERTISEMENT
Article continues below this ad
Bucks fans and players alike shouldn't be that concerned though. Given how intense this finals series has been, every player has either taken a knock or is still enduring some minor injury.
Given the superhuman ability Antetokounmpo has shown and how fit he has stayed all season, the Greek Freak will be ready for game 6 and look to win his first championship.
ADVERTISEMENT
Article continues below this ad