REPORTS: Star Pacers Guard Who Was Traded for James Harden Shown the Exit Doors
Published 12/08/2021, 12:04 PM EST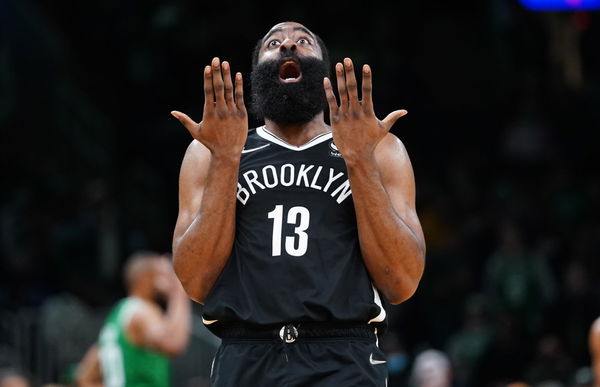 The Indiana Pacers, who started the season 10-16, are about to undergo a rebuilding. Reports mentioned them as moving toward a substantial rebuild and to begin trade discussions with some of their veteran stalwarts as per reports. A large part of the conversation revolved around veteran guard Caris LeVert and either Domantas Sabonis or Myles Turner, either of their two-star centers. All three of them received a great deal of interest from the rival teams. Moreover, Sabonis and Turner received frequent inquiries about their availability. After the trade, The Brooklyn Nets' all-star trio also includes James Harden, Kevin Durant, and Kyrie Irving.
ADVERTISEMENT
Article continues below this ad

Caris LeVert is on the move; James Harden traded to Nets
ADVERTISEMENT
Article continues below this ad
LeVert, who is 27 years old, is considered as one of the best players in the NBA. However, he has struggled with injuries many times. The Nets received their third superstar during the trade. James Harden was traded to the Nets as part of a blockbuster four-team trade.
As for Caris LeVert, his average of 14.9 points per game is the lowest he has put up since the 2018-19 season. He's also shooting just 25.9 percent from three. The trade that sent former MVP James Harden to Brooklyn had just happened in January after LeVert was traded to the Pacers.
As part of their physical, the Pacers underwent a lower back MRI that only a few teams do. Following the tests, Pacers' team physician called LeVert with the results, and the following is what he said:
"I know you don't know me," the doctor said. "But you won't be traveling with the team today. We found something we need to look at."
Despite his health problems, LeVert believes he is fortunate that the trade saved his life. At present, he has made his debut as a member of the Indiana Pacers, recording 13 points, seven rebounds, and two assists in the Pacers' 122–111 victory over the Phoenix Suns.
ADVERTISEMENT
Article continues below this ad
Currently, Indiana is ranked 13th in the Eastern Conference and fourth in the Central Division.
Sabonis and Turnerants were hired by Coach Rick Carlisle to help the team, including growing the potential of current rosters. Over the course of 26 games this season, Sabonis has maintained his position as the Pacers' best player, averaging 17.8 points, 12 rebounds, and 4.1 assists.
If you have any opinions about this reformation and LeVert's game after all this hard work and injury, please share them with us.
ADVERTISEMENT
Article continues below this ad