REVEALED: Where Did Michael Jordan Pick His Iconic Tongue Out Gesture From?
Published 01/03/2021, 1:45 PM EST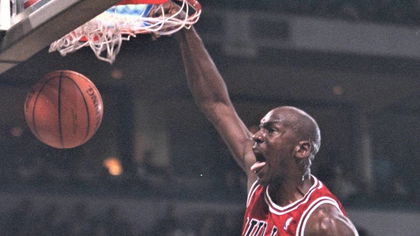 ---
---
Michael Jordan mesmerized the NBA for 15 years. He was one of the best scorers in the league and had an unmatched mentality on the court.
ADVERTISEMENT
Article continues below this ad
Jordan was a complete player offensively. His high-flying ability, his jump-shot, or his passing were the qualities that stuck out in his offense.
The other habit that stuck out while MJ attacked the rim was his involuntary tic to stick his tongue out whenever he was on his way to scoring against a team. In all of his iconic highlights, MJ can be seen either dunking or making a tough shot with his tongue out.
ADVERTISEMENT
Article continues below this ad
Veteran NBA writer Bill Smith, in an article for NBA.com, revealed how Jordan picked up this habit. He wrote, "He also had developed this habit of sticking his tongue out when he played ball, something his father did when he was working on cars back home, a hobby of James'. The other kids made fun of Michael for the gesture."
Michael Jordan confirms the origin story
Jordan even confirmed this claim back in 1990. In an appearance in the Arsenio Hall Show, MJ described how and when he developed this strange habit.
MJ said, "Well, it's an unconscious habit that I picked up from my father. Being a little kid and you're watching your father work, he used to stick his tongue out, and I took it up and made it a habit.
"And now I can't stop, I tried to stop, I tried playing with a mouthpiece in my mouth — just didn't work, it didn't feel natural."
This strange gesture by MJ eventually became a staple in the most important moments of his career and to date is one of the most iconic gestures by 'His Airness.'
The Incredible career of 'His Airness'
Michael Jordan had a stellar 15-year-long career. It was evident from the get-go as Jordan had the highest number of points in the league in his very first season.
After carrying the Bulls for 6 successive years, MJ finally had a proper supporting cast around him, which included the likes of Scottie Pippen and Horace Grant. He finally won his very first title in the 1990-91 season. He went on to win 2 more titles before his shock retirement. Once he returned from a 2-year-long hiatus, Jordan and the Bulls were ready to dominate the league once again. They ended Hakeem Olajuwon and the Rockets' run and won their 4th ring.
ADVERTISEMENT
Article continues below this ad
They won the 5th and the 6th ring in the following seasons before dismantling the aging roster. The last 2 seasons of Jordan's career somewhat fizzled out.
There was hype about the return of the 38-year-old to the league, but MJ never matched the astronomical numbers expected from him. But given that he was returning from a long break, his time at the Wizards is impressive.
ADVERTISEMENT
Article continues below this ad
MJ might not have had the best end to his career, but it sure is one hell of a CV to have. 15 years of sheer dominance and six championships later, Jordan hung his boots up in 2003.