Richard Jefferson Explains Why He Would Pick the 2001 Lakers Over the 2017 Warriors
Published 08/30/2021, 10:37 AM EDT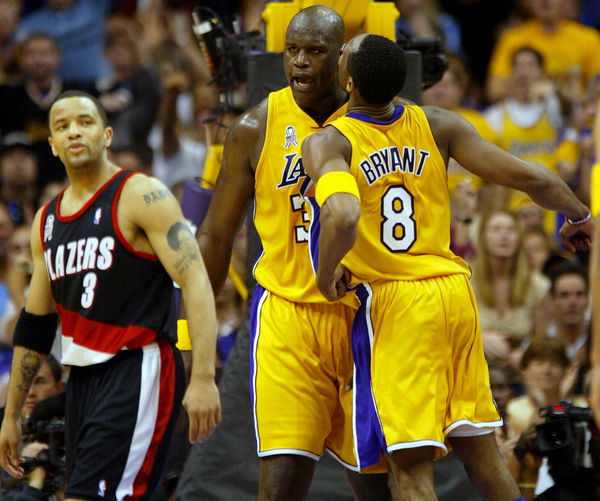 ---
---
In the history of the NBA only some teams have been able to create dynasties. In the last two decades, two teams standout, the 2017 Golden State Warriors and the 2001 Los Angeles Lakers.
ADVERTISEMENT
Article continues below this ad
Making it all the way to the Finals in three consecutive seasons, the two teams not only won multiple championships, they absolutely dominated other teams and were pretty much unbeatable for major stretches of the campaign.
ADVERTISEMENT
Article continues below this ad
Richard Jefferson chooses 2001 Lakers over 2017 Warriors
The 01'Lakers and the 17′ Warriors were certainly had some of the best teams in the NBA. While the 01′ Lakers saw one of the most iconic duos in Kobe Bryant and Shaquille O'Neal, the 2017 Warriors saw the big three of Stephen Curry, Kevin Durant, and Klay Thompson.
While a matchup between the two teams is impossible, players who played against both the teams can paint a clearer picture. One of them is Richard Jefferson. Playing for the 2001 Nets and the 17′ Cavaliers team, Jefferson played against both the super-teams.
ADVERTISEMENT
Article continues below this ad
In a recent appearance at the Road Trippin' podcast, RJ gave his verdict on which team was better. "The second best team I ever played against truly played against or faced was the 17 Warriors. Steph, Klay, KD, Draymond that team there was no there was no formula for that. I don't care, you almost needed like a USA Basketball team today simple to beat them. That's not not an exaggeration."
He added, "But the best team was the 2001 Lakers…. I know Steph gets all the credit for changing the game but why Shaq was different. Shaq forced you to carry three extra big or two extra big men on your roster."
ADVERTISEMENT
Article continues below this ad
Jefferson explained why Shaq was the biggest difference between the two teams. "You were going to have to keep a big man and multiple big men on the floor. Because Shaquille O'Neal, as much as I love Draymond, Draymond was not doing anything against prime Shaq."
The matchup between arguably the two most dominant teams in the last two decades would surely be fascinating. While the Warriors would have dominated offensively, the Lakers would have dominated the glass. Who do you think would have prevailed?