Richard Jefferson Reveals Confrontation Between LeBron James and Coach Tyronne Lue During 2016 NBA Finals
Published 04/29/2021, 2:00 PM EDT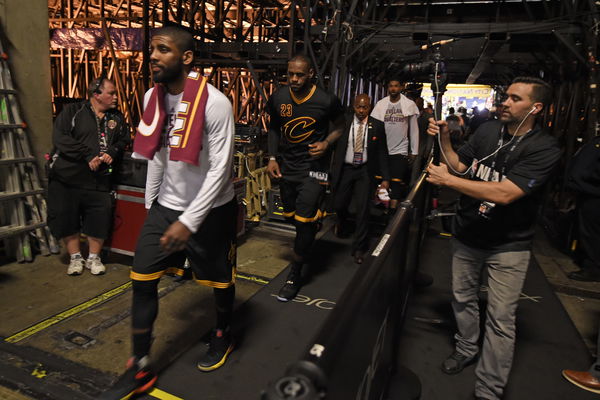 ---
---
The LeBron James-led the Cleveland Cavaliers to one of the most famous NBA Championship wins in 2016. He and Kyrie Irving were the architects of a historic 3-1 comeback against the greatest regular-season team of all time in the 73-9 Golden State Warriors. That championship was important for everyone, especially LeBron.
ADVERTISEMENT
Article continues below this ad
One of the veterans on the roster was Richard Jefferson. RJ contributed a lot to that Cavs team, being a very important rotational piece for the team. But when the stakes were the highest, everyone looked at LeBron to show up. RJ told YouTuber Kenny Beecham about a fight that head coach Tyronn Lue had with LeBron when they were trailing at half-time in Game Seven.
ADVERTISEMENT
Article continues below this ad
"Bron and T-Lue got into it at halftime because T-Lue comes in and he's like 'Bron I need more'. Bron, understanding game seven, was keeping his emotions in check. Because half the battle in those things is trying to keep your emotions in check. It's not like he said 'Bron I need you to play hard'. But he's like 'Bron, you're not playing hard enough'."
RJ would go on to tell the story of that encounter being respectful and based on what everyone came to expect of LeBron. He could drop 25-8-8, but it could still be a bad game. That flipped a switch in LeBron, and the Cavs would rally to win the crucial game and lift a championship.
ADVERTISEMENT
Article continues below this ad
LeBron James: Is he hard to coach?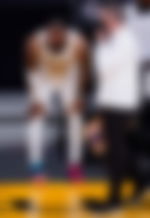 Watch This Story
The question of how coachable LeBron James has been throughout his career is often debated. Everybody knows that his early Cavs team was completely dependent on what he did, diminishing the role of coaching. The same happened towards the end of his Cleveland career, with people not giving Ty Lue the credit for the 2016 title.
ADVERTISEMENT
Article continues below this ad
James infamously wanted to get Erik Spoelstra fired when he was in Miami, hinting it to Pat Riley on multiple occasions. However, the Lakers have proven that LeBron is a coachable player. He bought into the defensive system that Frank Vogel put in place. Not only are the Lakers the best defensive team in the NBA, but they also won a championship.