Rick Gervais Makes a Case for Michael Jordan's The Last Dance to Win an Emmy
Published 12/25/2020, 7:13 AM EST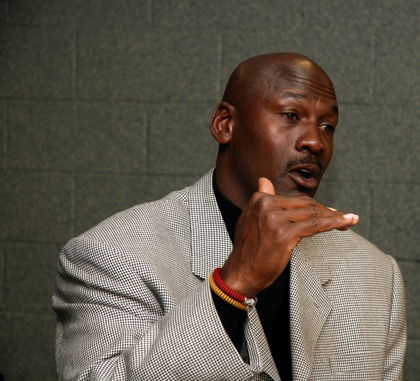 ---
---
The Last Dance documentary took a deep dive into the life of NBA legend Michael Jordan. It depicted the struggles of MJ during his life with the Chicago Bulls both on and off the court. In fact, The Last Dance is arguably one of the best docuseries out there.
ADVERTISEMENT
Article continues below this ad
It had a great storyline along with amazing direction and helped basketball fans see MJ's career from a different perspective. As a result, the ESPN's docuseries racked up record numbers during the lockdown period.
Renowned comedian and actor Ricky Gervais had nothing but praise for the Last Dance Dance documentary. He said:
ADVERTISEMENT
Article continues below this ad
"I finished the Last Dance. Incredible, just give the Emmy to them. It's a masterpiece and I've loved lots of documentaries. I've loved Tiger King and Don't F**k With Cats and they're great. But they're smalle, I suppose it's representative of somewhat much, much bigger isn't it? That Michael Jordan, he's just inspirational."
As Gervais mentioned, the Last Dance was much more than just a sports documentary. It was Michael Jordan's story from his own perspective and how he perceived the events of his career. If you are a basketball or Michael Jordan fan, the Last Dance should be on your watch list, hands down.
The story of Michael Jordan in the Last Dance The Last Dance is divided in 10-parts and covered his entire life till he retired with the Chicago Bulls for the second time in his career. MJ is regarded as the GOAT by most fans, but not many know his impact on the league.
ADVERTISEMENT
Article continues below this ad
If it weren't for the Jordan and Bulls, the NBA might not be where they are today. They helped reach the league to every corner of the world and globalized it. As far as Jordan's on-court career is concerned, the Last Dance dissects every major moment in the 10 episodes.
From him taking the league by storm to "The Shot" against the Utah Jazz in 1998. Considering everything, the documentary deserves every bit of praise that it has gotten in the past 6 months and they should keep racking in awards.
ADVERTISEMENT
Article continues below this ad
What was your favorite moment from the Last Dance documentary? Let us know your views in the comments section down below.