'Ripe Old Age of 57′: Former Teammate Takes a Cheeky Dig at the Lakers' LeBron James
Published 01/18/2021, 5:28 AM EST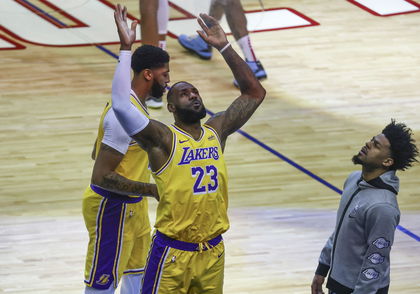 ---
---
LeBron James is getting better with age. Of course, he's losing some of his speed as the years fly by, but the 'Chosen One' has been adjusting his game remarkably. Bron is now taking more jumpers and long-range shots, and his colleagues can't praise him enough! 
ADVERTISEMENT
Article continues below this ad
Former teammate takes a hilarious dig at LeBron James 
LeBron James produced an early contender for one of the most iconic moments of the season when the Los Angeles Lakers played the Houston Rockets a week ago. Bron received the ball at the corner and drained an unbelievable no-look three which drew insane reactions from the NBA community. 
ADVERTISEMENT
Article continues below this ad
Likewise, Bron's former teammate Channing Frye joined the bandwagon in taking a cheeky dig at the four-time MVP over his no-look three. Frye is the voice of NBA TV's '#Handles' segment, and this is how he reacted to LeBron's incredible no-look three-pointer. 
"At the ripe old age of 57, LeBron is still doing amazing things," Frye exclaimed. He then added humor to it by posting a meme that said the Nets created a super team in Brooklyn a day after LeBron hit the no-looker!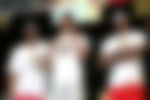 LBJ revealed his inspiration in attempting the crazy shot 
Fans would be aware that Dennis Schroder bet LeBron James that he wouldn't make that three. But what's most insane is that the duo made the wager in a matter of a second between LeBron's ball release and it going into the basket. 
After winning $100 from Schroder, LeBron then maintained a humble approach when asked about the crazy no-look three-pointer in the post-game presser. Furthermore, he also revealed that Steph Curry is the guy who has mastered the no-look shots and credited the Warriors' star for inspiring him. 
ADVERTISEMENT
Article continues below this ad
"Steph has definitely done it the most in our league," LeBron said. "When you shoot the ball as beautiful and effortlessly and precisely as Steph does, he has the ultimate ultra-green light to do that. 10 times out of 9 that's going in for Steph." 
LeBron James is currently averaging 24.1 points, 8.1 rebounds, and 7.7 assists through 14 games in the regular season. He's perfectly adapted his game to complement his teammates, but can the Lakers complete the double this year?
ADVERTISEMENT
Article continues below this ad