Rumours of a Massive $250 Million Contract for 3X All Star Sends NBA Twitter in a Frenzy
Published 05/25/2022, 12:04 AM EDT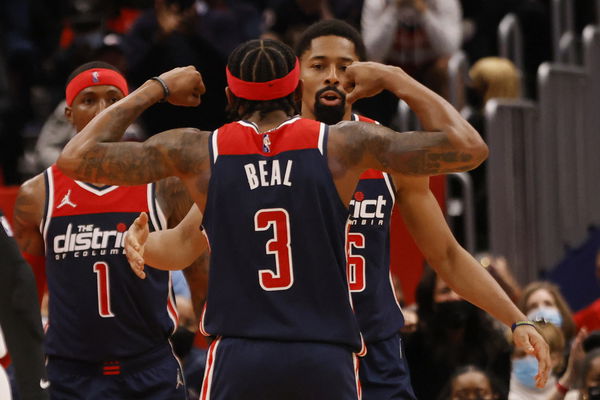 Loyalty is a huge part of the world of basketball. Players such as Kobe Bryant and Tim Duncan stayed true to one organization and won everything with them. However, sometimes loyalty isn't always met with rewards. And Bradley Beal is a living example. Being with the Washington Wizards his entire career, the scorer is yet to make a significant run at winning a championship. Surprisingly, after many reports of his desire to compete, a huge contract may just keep him in Washington. Likewise, NBA Twitter was shocked to see the reports.
Beal is one of the most skilled scorers in the NBA. The Wizards guard is best known for his partnership with John Wall. Their duo was a huge reason or the Wizards to see a playoff berth. However, through his 10-year career, Beal has only been to the playoffs 5 times. Moreover, the Wizards are nowhere near a competing team right now. His loyalty towards the franchise kept him in for these years, but at the end of the day, Beal is a competitor.
ADVERTISEMENT
Article continues below this ad
But it seems the script has flipped around. Reports of a huge contract extension with the Wizards had NBA fans going berserk.
WATCH THIS STORY – 5 best Memes on Chris Paul Choking Yet Again in the NBA Playoffs
Bradley Beal breaks the NBA world with Wizards extension?
Spending a decade with the same organization makes it hard to say goodbye. And with Beal holding loyalty to such high regard, it would always be tough for him to choose. However, entering as a free agent next season, his decision could be huge. The Wizards guard has two options in front of him. The first is to leave as a free agent or via trade. On the other hand, Beal has the option to sign the max contract extension with his beloved Wizards. And it seems Beal has made his choice.
All set to sign a $250 million contract extension with the Washington Wizards, Bradley Beal, left the NBA world in shock. Beal has always wanted to win in Washington, and it seems he is leaning towards doing just that.
ADVERTISEMENT
Article continues below this ad
Looking at the Wizards, they are still a young and growing team. However, there is surely potential. With the additions of Kyle Kuzma and Porzingis, Washington is surely going on the right track. However, being just 28 years, Beal is in his prime right now. He has averaged over 30 points in 2 of his last 3 seasons. Hence, as a free agent, Beal could change the dynamic of the league. His decision could change the look of an organization completely. But Beal wants to stay true to his purpose.
ADVERTISEMENT
Article continues below this ad
With the hot topics of a possible trade going on, Beal said he wants to win in Washington. And the 28-year-old star looks to be going all in. With a $250 million dollar extension and a great supporting cast at hand, do you think the Wizards can grow into a competing team in a few years? Let us know your views in the comments below.
Edited By: Ajinkya Aswale