'S–ks for Dame': NBA Analyst Counts James Harden as a Better Franchise Player Than Damian Lillard
Published 12/19/2020, 11:00 PM EST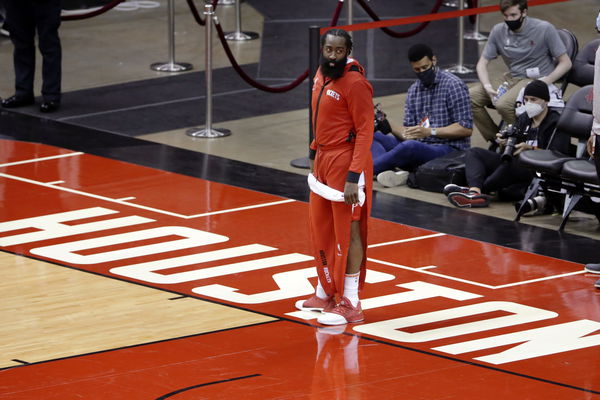 ---
---
The NBA has seen many franchise players who would do everything in their capacity to pull up their team. Legends like Larry Bird (Celtics), Tim Duncan (Spurs), and Kobe Bryant (Lakers) are prime examples from the past, and players like Giannis Antetokounmpo (Bucks) and Damian Lillard (Blazers) are carrying it forward the tradition today. But does James Harden deserve to be on the same list?
ADVERTISEMENT
Article continues below this ad
A month or two ago, yes, James very easily would have made the cut. But today, one can argue against it as Harden recently shared his dissatisfaction and lack of interest in continuing with the Rockets. Still, keeping the exceptional situation aside, can critics agree that Harden has had a more successful run with the Rockets than Lillard and the Blazers?
NBA journalists fight for the James Harden vs Damian Lillard debate
ADVERTISEMENT
Article continues below this ad
On a recent episode of 'The Ringer' podcast, host Chris Vermon and the guest Nick Wright went tooth and nail to prove their point. Here's how Chris expressed his support for Blazers' Dame Lillard:
"Dame was, because of the lack of a superstar. I am more impressed about him carrying his franchise. Who's the best player Damian Lillard has ever played with? How many All-star teams CJ McCollum played in? CJ McCollum never made an All-star game."
Contrastingly, 'The Beard,' in his 8 seasons with the Rockets, has played alongside the likes of Dwight Howard, Chris Paul, and Russell Westbrook, to name the very best. But Damian Lillard has never really got the privilege of teaming up with All-Stars in Portland.
James Harden ensured that the Rockets qualified for the playoffs in each of those eight seasons (three semis, two conference finals), while Dame in his eight seasons with the Blazers got them past the regular-season seven times (two semis, one conference final).
So who is the better franchise guy?
To counter the argument above, NBA journalist Nick argued in favor of Harden and said: "Dame has those two iconic shots, and also some tough postseason moments… when the Blazers played well everyone loved Dame, when they're 20 games out of first, even though Dame and CJ were healthy all year, we're like 'ah s–ks for Dame man', but what we can't do is say, Dame should've been better."
"Because before they got superstars in Houston, James Harden was carrying that team to the postseason, before they got other guys around. It's not like in the Dwight Howard years, [he] was a force. I'm not saying he's not impeachable, I'm saying there's a little too much flame drawn in his way," added Nick Wright. 
ADVERTISEMENT
Article continues below this ad
In the last 40 years, 38 champions have had a Top 20 all time player. Only the 2019 Raptors & 2004 Pistons didn't.

The Rockets problem wasn't enabling Harden, it was that as great as Harden is he isn't quite good enough. https://t.co/PdcgwHhiJ3

— nick wright (@getnickwright) December 17, 2020
The Beard has finished within the Top 3 in five of the last six MVP votings. He has been the league's leading scorer for the past three years and hence his personal achievements with/without stars are also very high. So, the debate is a little skewed towards the argument that James will better be remembered for helping the Rockets.
ADVERTISEMENT
Article continues below this ad
What are your thoughts? Help us know in the comments.