Scottie Pippen Believes Michael Jordan Couldn't Make it to 96 Finals Without Him
Published 07/04/2021, 10:30 AM EDT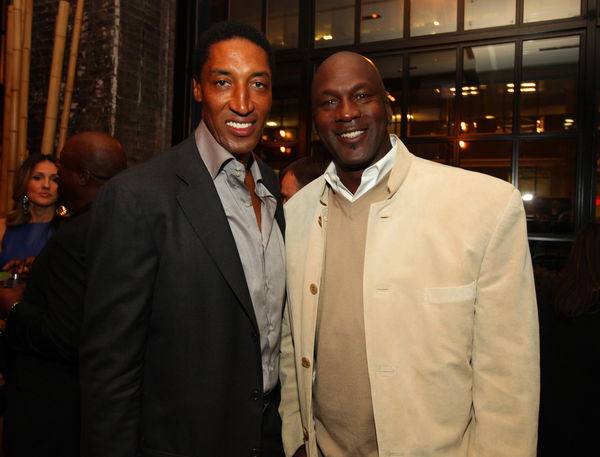 ---
---
When talking about the greatest duos in the history of the NBA, Michael Jordan and Scottie Pippen almost always come up. The two joined forces when the Chicago Bulls pulled off a sneaky draft-night trade with the Seattle SuperSonics in 1987. However, Jordan always takes the limelight over his teammate, but Scottie now thinks he deserves more credit than he gets.
ADVERTISEMENT
Article continues below this ad
Scottie Pippen fires shots at Michael Jordan
Scottie Pippen was drafted by the Supersonics in the 1987 NBA Draft as their fifth overall pick. However, his trade changed the Chicago Bulls dynasty. Both Pippen and Michael Jordan led the franchise to six NBA champions during the 90s.
ADVERTISEMENT
Article continues below this ad
But in 1996, the Bulls were up against Pippen's former team. The Supersonics had a stellar duo in their roster themselves, Shawn Kemp and Gary Payton. So, what if Pippen had never gotten traded? What would his career be like with Seattle?
On the 'Dan Patrick Show', he responded to this intriguing question and said, "I would have had some pretty good teammates, especially if we were still landing Shawn Kemp and Gary Payton. It is a team we played in the Finals. So, that sort of fit."
But when Dan said that watching that trio go up against Mike would have been fun to watch, Pippen took the opportunity to jab at MJ and said, "I don't know if he (Jordan) would have made it that far. If you know what I mean. I'm just saying."
WATCH THIS STORY: Scottie Pippen, Dennis Rodman & Other Teammates Michael Jordan Was Lucky to Have
Not just a sidekick of MJ?
Surprisingly, Jordan never got past the first round of the playoffs until he paired up with Scottie. In fact, the pair always won the first round in the postseason and have only lost four series in the playoffs together.
Jordan might have won all the MVP awards, but it seems like Scottie wanted to drop in a reminder that he was just as valuable. Isn't it strange to see Pippen not talk very fondly of the teammate that he changed the course of the NBA with?
Well, Pippen has come out with a Memoir of his own that gives a detailed insight of his time with Michael Jordan as well. That might help fans understand the true nature of their relationship.
ADVERTISEMENT
Article continues below this ad
Ready to hear my side of the story? UNGUARDED. You'll read my takes on playing with MJ and Rodman and being coached by Phil Jackson. From a small town in Arkansas to the big time in the NBA. On sale 11.16.21. PRE-ORDER NOW. #pippenunguarded https://t.co/ibJumtCfYy

— Scottie Pippen (@ScottiePippen) June 9, 2021
What are your thoughts on Pippen's comments?
ADVERTISEMENT
Article continues below this ad