Scottie Pippen Getting Candid With 'Mark Zuckerberg' During Bulls Game Left NBA Announcers Confused
Published 05/19/2022, 9:30 PM EDT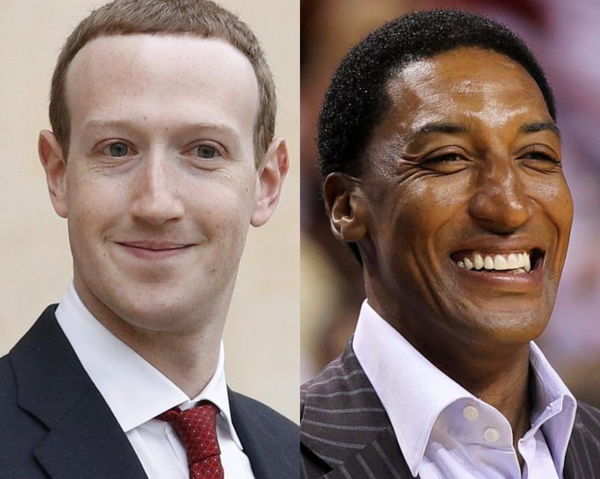 Celebrity spottings are not rare in the NBA. Thanks to the immense popularity of the game, celebrities like Drake, Jay-Z, and others are regular attendees of games. Interestingly enough, one such celebrity appearance involving Bulls legend Scottie Pippen baffled the commentators.
During a game between the Chicago Bulls and the San Antonio Spurs, Pippen got candid with a fan. In a hilarious fashion, the commentators mistook the fan for a Billionaire CEO and co-founder of one of the most famous social media platforms.
ADVERTISEMENT
Article continues below this ad
Commentators mistake fan talking with Scottie Pippen for a Billionaire
The Chicago Bulls are considered one of the greatest NBA sides ever. Led by Michael Jordan, Scottie Pippen, and Dennis Rodman, the Bulls dominated the league for an entire decade.
One of the most underrated stars of the Bulls franchise was Pippen. Although Jordan might take most of the credit for the Bulls' successes, Pippen deserves his fair share of credit too.
Interestingly enough, while Pippen attended one of the games of his former team, the commentators had a bad day at work.
Pippen talked passionately with a fan sitting beside him when the cameras focused on him. However, the commentators mistook the fan for Billionaire CEO Mark Zuckerberg! Although the fan shared a resemblance with the Facebook co-founder, it was hard to mix up faces.
The commentator said, "Scottie Pippen who is sitting next to… That's the man. Mark Zuckerberg? Looks like him. I thought it was Jesse Eisenberg."
ADVERTISEMENT
Article continues below this ad
It turned out the commentators were wrong on both occasions. The fan was neither Mark Zuckerberg nor was he the actor Jesse Eisenberg.
WATCH THIS STORY: 5 best Memes on Chris Paul Choking Yet Again in the NBA Playoffs
However, they identified Scottie Pippen correctly! Although he has been in the news for all the wrong reasons, his contribution to the Chicago Bulls cannot be undermined.
ADVERTISEMENT
Article continues below this ad
In 12 seasons in Chicago, Pippen averaged 17.7 points, 5.3 assists, and 6.7 rebounds. Moreover, he won 6 NBA titles alongside other individual accolades. But since 'The Last Dance' was released, Pippen has been seen taking shots at his former teammate Michael Jordan. 
What do you think of the mistake made by the commentators? Let us know in the comments below!
Edited By: Arunaditya Aima