Scottie Pippen on Michael Jordan: 'Perhaps the Sport Had Been Too Small for Our Big Egos, He Seeing Me as His Sidekick. God, I Hated That Term and Being Referred to as Robin to His Batman'
Published 12/08/2021, 6:30 AM EST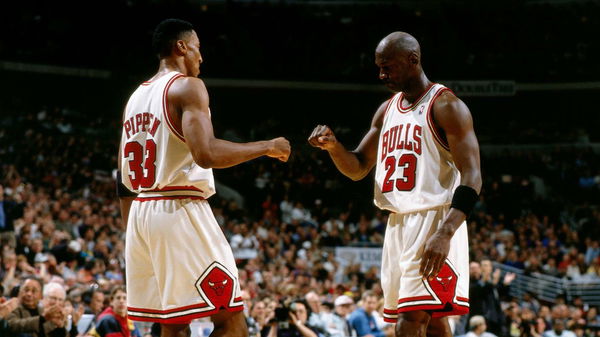 The relationship of Scottie Pippen and Michael Jordan has become a topic of heated discussion over the last month. Pippen has accused Jordan of being 'selfish' while Pippen himself has been accused of using Jordan's name for his own benefit.
Scottie Pippen, a former Bulls player and teammate of Michael Jordan on the six-time NBA champion team in Chicago during the 1990s, speaks about his relationship with MJ in his book Unguarded. Pippen discusses how they were never close friends but always respected one another as competitors.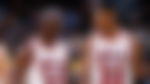 ADVERTISEMENT
Article continues below this ad
However, as their careers progressed, things began to change. In the prologue of his book, Pippen has written, "Perhaps the sport had been too small for our big egos, he seeing me as his sidekick-God, I hated that term and being referred to as Robin to his Batman — someone he felt he needed to pull along to approach every game and practice as intensely as he did; me, a team-oriented purist, offended when he tried to win games by himself."
On various occasions, Pippen has talked about how Michael Jordan gave himself too much credit for the team's successes. He feels that a 'GOAT' debate in basketball is a flawed narrative, since in a team sport, it's the collective that matters, and not the individual.
Pippen feels Michael Jordan gets too much credit
Throughout the promotion of his book, Scottie Pippen has opened up about how he felt that Jordan capitalized on the team's success to build his own brand; especially through 'The Last Dance' documentary.
ADVERTISEMENT
Article continues below this ad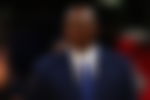 Pippen has also discussed how the media constructs a narrative of individual greatness in team sports and glorifies individuals for their team's performances. Jordan and Pippen were teammates in the Chicago Bulls team in the 90s which is arguably one of the greatest NBA teams of all times. They won an astonishing six NBA Championships together, in two three-peats from 1991-1993 and 1996-1998.
ADVERTISEMENT
Article continues below this ad
What do you make of Pippen's comments? Do you think his arguments about the nature of team sports are valid? Let us know in the comments.