'Season Could Be in Jeopardy': Doctor Breaks Down an Injury Scare for Sixers' Joel Embiid
Published 03/14/2021, 10:22 PM EDT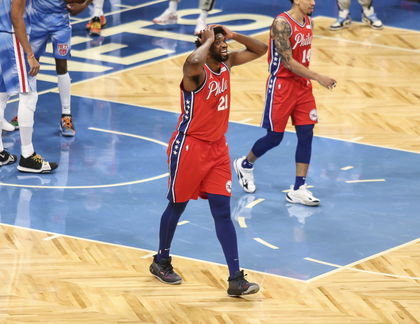 ---
---
Sixers' Joel Embiid has had a very troubled relationship with injuries. Every time his name joins the MVP debate, something unfortunate drags him down and kills his chances of winning the coveted trophy. His most recent knee injury can very easily become the reason behind yet another disappointment.
ADVERTISEMENT
Article continues below this ad
Embiid hurt his knee badly during his comeback game against the Wizards. Prior to that, he had to sit out in the All-Star 2021 game because of contact tracing and was playing after nine days of inactivity. The injury looked so scary that it raised concerns over his return anytime soon. 
A doctor breaks down the frightening injury of Joel Embiid
ADVERTISEMENT
Article continues below this ad
In the game against the Wizards, The Process had already done a lot of damage to his opponents before hurting himself. He had scored 23 points off his 20 minutes of play and looked every bit as strong as he did in his 40-point double-double performance against Utah. But that's when he made a dunk attempt, hit a player mid-air, lost his balance, and threw off his body weight on his left knee.
Fans were forced to turn away as Joel Embiid lay on the floor, yelling in pain. Recently, a doctor created a short video to break down that injury and explain its medical intricacies that can be helpful for any sports player to understand.
He detailed, "Joel Embiid season could be in jeopardy… He is getting an MRI, but we exactly don't know the severity of the injury… It all started with an awkward dunk and… landing hard on heel, there's no ability for the rest of the muscles through his foot and through his lower leg to help him absorb that impact… his center of mass pass the front, so when he comes down cause his momentum to carry him forward, more across that knee, leading to hyperextension. That put a strain on his soft tissues and ligaments."
The doctor mentioned how there was a lack of flexion during his landing that led to his feet hitting the floor straight, with an excessive impact. 
How bad is the Sixers' leader's injury? 
Apart from Joel Embiid's back issues, he has faced enough knee troubles in the past. The Process tore his meniscus in that left knee back in 2017, and then, throughout the 2018 season, experienced some additional soreness in that knee that forced him to miss some games.
Shockingly, he 4x All-Star has never played more than 64 games in a season. That's one reason he has played only 240 games while being in his seventh NBA year. 
ADVERTISEMENT
Article continues below this ad
The doctor later explained the mechanics behind his hyperextension and noted, "different structures that sit in the back outer corner (of the knee) can be injured, especially when someone has something like a hyperextension. A bone bruise is very common because you have an excessive amount of force going particularly through the front of the knee. Yes, the ACL and PCL can also be torn if hyperextension is severe enough. They're much more complicated than ankle sprain or knee falling inward and tearing your MCL or a twist in a meniscus tear." 
While he did not clearly call it an ACL/PCL issue, he explained how that deformity in the angle of his landing can lead to various underlying injuries. 
We just wish him a speedy recovery and wish to see him playing after the said three weeks. Meanwhile, the Sixers face a big test as they still sit on the top.
ADVERTISEMENT
Article continues below this ad
Read Also – 76ers' Joel Embiid Posts Stats Similar to Michael Jordan and Steph Curry's MVP Season