"Send Kyrie Packing": NBA Twitter Destroys Kevin Durant for His Reaction to Nervy Loss vs Jayson Tatum's Celtics
Published 03/07/2022, 11:00 AM EST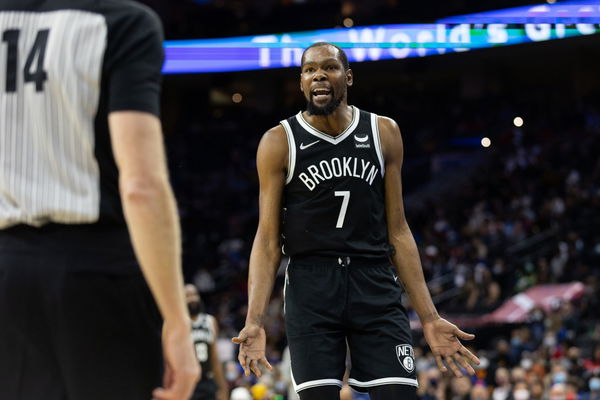 After the departure of James Harden, Kevin Durant and Brooklyn Nets are in search of answers. Their situation is unconvincing, and they struggle to close games. 
They have now lost their last 17 out of 20 games running back even before the trade happened. That is very, very concerning. Their most recent loss came against a top Boston Celtics side who, on the other hand, have won 16 of their last 20 games.
ADVERTISEMENT
Article continues below this ad
The Nets are currently 9th seed. Their only and very difficult road to the playoffs is through the play-in tournament. Moreover, things are looking up for Jayson Tatum's Celtics as they are 5th seed and are in a good run of form.
NBA Twitter ruthless as Kevin Durant and Brooklyn Nets struggle
KD has been averaging 29.5 points per game this season despite injury struggles and James Harden going away. Although these are his best numbers since 2013, the Nets are clueless. The face of Kevin Durant in the following tweet is actually every Brooklyn fan right now.
With Harden, they still had some hope of reviving the downfall; that is, if Harden acted professionally, which is a different topic altogether. But the fact is that now they seem like they have no idea how to make the situation better and fans on Twitter won't cut them any slack. 
Send Kryrie packing.

— RPG Enthusiast (@EnthusiastRpg) March 7, 2022
Watch This Story: NBA stars, just like Jayson Tatum who were mentored by Kobe Bryant.
They not they both limit each other. If kyrie was able to play every game it isn't close. Durant is a offball player and iso. Harden is a pnr player kyrie and kd fit each other perfectly

— Giannis League (@AirGiannis) March 7, 2022
Nets are now 6-15 without Harden😭

— 🥷🏾 (@kennygotfanss) March 6, 2022
management has been horrible

— ᵂᴵᴸᴸ 🚀 (@BiasedHouston) March 6, 2022
Why on earth is it worth anyone's time to troll kd

— Chris Cusack (@Chrisq28) March 7, 2022
His head was shaking back and forth was so mad

— ladysixers600 (@joanna4800) March 7, 2022
"I should've teamed up w Kawhi in LA"

— DepressedClippersFan (@ClipsUpNext) March 7, 2022
Unfortunately have to agree with this one. And I'm a Nets fan.

— Lanz Huang (@beermathuang) March 7, 2022
Jayson Tatum ripped apart the Brooklyn Nets, finishing the game with 54 points. Although the Celtics won by only 6 points, in the end, the Nets looked lethargic and could manage to maintain the lead only till the first quarter. Boston Celtics were in lead for all the other three quarters, thanks to a top-notch and headline-worthy masterclass from Jayson Tatum.
ADVERTISEMENT
Article continues below this ad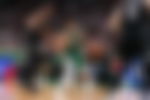 What is the way out for Brooklyn Nets?
The struggles of the Brooklyn Nets are imminent and unavoidable at the moment. Kyrie Irving is far from his best. Ben Simmons is far from appearing on the court. And Kevin Durant is far from the time when he single-handedly won games. 
ADVERTISEMENT
Article continues below this ad
The situation is dire and looks too complicated to be solved. The only answer the Nets can find to give themselves some momentum is to have Ben Simmons back to fitness and manage to get him playing again, along with constant game time from a fit Kyrie Irving. Their only way out, or rather their way to save face, would be to play the three stars together as much as they can and as quickly as they can.