'Shame on You Budenholzer': Ja Morant & Others React to Giannis Antetokounmpo and Bucks Thrashing Hawks in Game 2
Published 06/25/2021, 11:13 PM EDT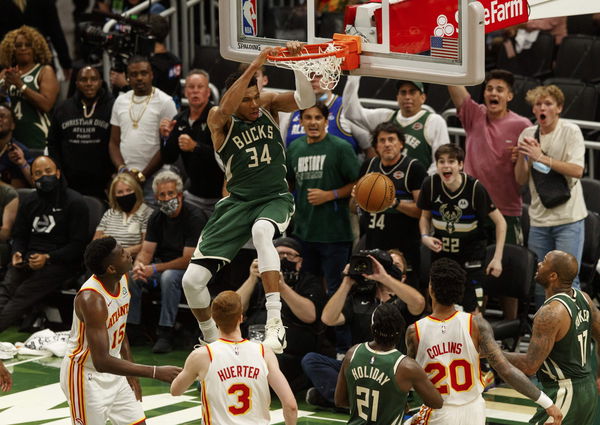 ---
---
Giannis Antetokounmpo led Bucks and the Hawks met for Game 2 at Fiserv Forum with the latter at 6-2 on the road this postseason. Both the sides started with the same five names as the visitors allowed Bogdan Bogdanovic to play despite right knee soreness. 
ADVERTISEMENT
Article continues below this ad
The match began with Giannis converting a fastbreak layup even with all the five Hawks inside the paint. He didn't stop just there. The Greek Freak followed it with a triple combination of a spin move, a mid-air mend, and a smooth finger roll. This continued till the end as the Bucks won the game 125-91.
NBA reacted with huge praise for Bobby Portis and Giannis Antetokounmpo
ADVERTISEMENT
Article continues below this ad
The Bucks stayed ahead since the very beginning and that difference in score kept getting bigger. At 51-40 with the Downtown leading, the score went to 71-40 with a blink of an eye, giving the Bucks a solid foundation.
By the end of Q3, it was an invincible 40-point lead for the host team. Jrue Holiday went 8/12 in the first half, and all that left the Hawks crying for help.
With Giannis scoring 25 points at 61.1% shooting, the NBA jumped on the wagon to pour praise on him and his side. Take a look –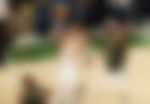 What worked for the Bucks in Game 2?
With American musician Sheryl Crow and Chance The Rapper as celebrity fans cheering for them, the Bucks took off with a flying start. Notably, Khris Middleton went 0/9 from the three-point range in Game 1, and his buzzer-beater miss became the reason for their loss.
But the man corrected that in the opening minute by dropping a three on Giannis' assist. Then, Bobby Portis, exactly like Game 1, showed his perimeter prowess and influenced the game in just three minutes that he played in Q1. 
ADVERTISEMENT
Article continues below this ad
However, what did not work was Pat Connaughton guarding Trae Young, but the former made it up with 100% field shooting. Plus, Danilo Gallinari scoring nine quick points off the bench in Q1 was another big help for the Hawks.
But all that went down the drain just as they lost all their offensive depth in Q2. The Bucks' starting five combined for 79 points while the bench added another 46, making it an all-round show.
Do you see Bucks winning the next game in a similar fashion? Help us know in the comments.
ADVERTISEMENT
Article continues below this ad
Watch this story – Giannis Antetokounmpo Heated Moments from Playoffs