Shaquille O'Neal Blames Himself For 1995 NBA Finals Loss to Hakeem Olajuwon's Rockets
Published 05/02/2021, 10:30 AM EDT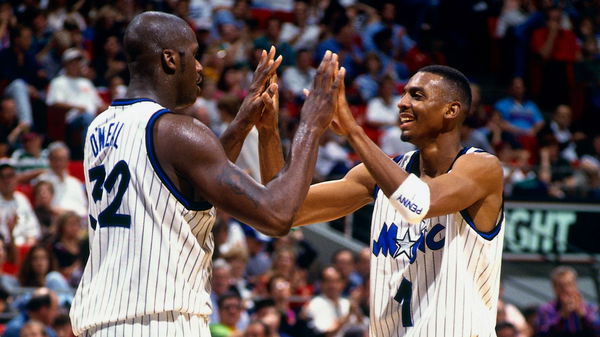 Shaquille O'Neal was arguably the most dominant player in his prime. In his 19 seasons in the NBA, Shaq won four championships with three finals MVP trophies and 15 All-Star appearances.
While his time with the Lakers was his most productive, he was already one of the biggest players in the league before. This was because of his dominant seasons with the Orlando Magic.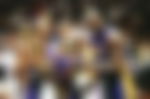 The Orlando Magic were arguably one of the best teams in the NBA in the mid-90s. Led by the duo of Shaq and Penny, the Magic did a great job in building a talented supporting cast with players like Horace Grant and Nick Anderson.
ADVERTISEMENT
Article continues below this ad
Shaquille O'Neal blames himself for 1995 Finals loss
In the 1994-95 playoffs, the Magic steamrolled past everyone in the Eastern Conference. Their biggest triumph, however, was beating Michael Jordan and the Bulls. With the Bulls out of the picture, the talented Magic side were considered as the clear favorites to win the title.
But shockingly, a Hakeem Olajuwon led Rockets side absolutely dominated an inexperienced Magic side and ultimately swept them in the 1994-95 NBA Finals. Shaq recently spoke about this defeat. Speaking with Matt Barnes and Stephen Jackson in All the Smoke podcast, O'Neal blamed himself for his team's defeat.
ADVERTISEMENT
Article continues below this ad
"That was my fault. We lost. Because as a leader, I didn't lead. After we beat the Bulls, I let up. Thank you for the game, right? Straight. We didn't play in Houston before. I think it was one on one or even series."
Shaq added, "Hakeem gonna get 30, I'm gonna get 27 right. And off the record. We had eight days off. Man, this guy was doing stuff we he wasn't supposed to be doing. They had they had like a little parade and all that, we were just celebrating, right? So it taught me never celebrate too early."
ADVERTISEMENT
Article continues below this ad
He added, "My fault because I didn't get the guys ready. But Nick misses the free throws. We go down 0-1, second game we go down 0-2. We go to Houston and we know we don't have a shot. So we get swept. But it just taught me never to celebrate too early. And then also put that hunger in me and I said okay, if I ever get back to the finals ever again."
Shaq stayed for one more season with the Magic, but ultimately left the team to join the Lakers. Penny Hardaway, meanwhile, suffered from numerous injuries and eventually was traded. How many championships do you think the Magic would have won if Shaq hadn't left the team?