Shaquille O'Neal Destroys Trail Blazers for Separating CJ McCollum and Damian Lillard: "Why Don't You Make a Trade Around Them?"
Published 02/09/2022, 3:30 PM EST With CJ McCollum's exit from the Trail Blazers getting closer by the minute, it will put an end to a solid partnership. For years now, the duo of CJ McCollum and Damian Lillard have been the backbone of Portland's attack. But as the trade deadline approaches, it seems to be the end of the road. And according to Lakers legend Shaquille O'Neal, the Trail Blazers have made a mistake.
WATCH THIS STORY: 5 Michael Jordan Moments That Would Go Viral if the Internet Was Big in the 90s
At the age of 30, it is safe to say that CJ McCollum still has a couple of good years left in him. Averaging 19 points in his career, he combined with Damian Lillard to form a deadly guard combination. After all, he has been with Portland since day one and has nearly completed a decade with the franchise. However, with the Pelicans alarm bell calling, is this the right step for CJ?
ADVERTISEMENT
Article continues below this ad
Shaquille O'Neal unhappy with Trail Blazers over CJ McCollum exit
Ahead of this week's trade deadline, the Pelicans have completed negotiations with the Trail Blazers over McCollum. The deal comes as a bit of a surprise, as the sides are battling it out for a top-10 spot. In addition, it is surprising that Portland, who have ridden waves of success thanks to Dame and CJ, are agreeing to sell him. At least, this is what 15-time All-Star Shaq believes.
ADVERTISEMENT
Article continues below this ad
Speaking on NBA TNT, O'Neal spoke about how Portland's foundation is set to be tarnished. He said, "I always thought the foundation of Portland was CJ and Dame. This era we live in, when you don't do well, you automatically go to 'We gotta break em up, we gotta break em up.' I thought if you're gonna make a trade, why don't you make a trade around them?"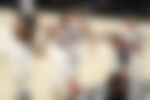 Do you think Portland showing CJ McCollum the exit doors is the right call? Sure, his performances of late haven't been the best; however, they are overlooking a threatening duo that has brought them very far. Regardless, we can only wish CJ the best of luck for his future!
ADVERTISEMENT
Article continues below this ad