Shaquille O'Neal Drops Truth Bombs About The Ben Simmons and Philadelphia 76ers' Complicated Situation
Published 09/09/2021, 9:30 AM EDT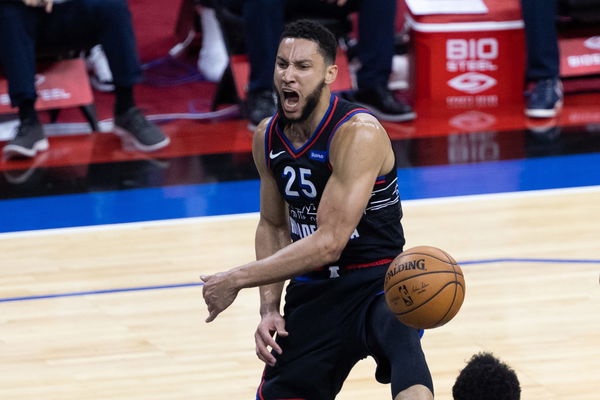 ---
---
If there is anybody who had to face criticism up to his neck last season, it's Ben Simmons. Well, of course, winning and losing is a team affair but nobody will deny that it was Ben's shortcomings that resulted in the Philadelphia 76ers' fall against the Atlanta Hawks. And if there is anybody who knows what criticism feels like, it's legendary Shaquille O'Neal, who was often put on a spot because of his lousy free throws. Simmons was no different and so Shaq has some brutal but strong advice for the young star.
ADVERTISEMENT
Article continues below this ad
Shaquille O'Neal gives Ben Simmons' a life lesson
ADVERTISEMENT
Article continues below this ad
There is no doubt that Ben Simmons is a great player. However, his last game against the Atlanta Hawks put his weaknesses into the limelight. From his inability to score consistently or in clutch moments to his failure on the free-throw line. Since then, neither 76ers fans are a fan of Ben returning to the roster, nor Ben, who reportedly said that he won't be returning to training camp unless he is traded.
However, Shaq doesn't condone this kind of behavior. He explained how his father always taught him that a player must always put on a good show. And then suggested that Ben should take responsibility for his bad performance. "You got to work on your game. I was there in Game 6 when he dribbled under the rim where he could have dunked because he didn't want to get fouled." Shaq said.
"Listen, I wasn't a great free-throw shooter. But you know what? I wasn't going to stop being aggressive because I was worried about making free throws. We're obligated to put on a good show and obligated to work on our game. So, he has to decide for himself. Do I want to be a really good player? Or do I want to be one of the greatest?"
WATCH THIS STORY: From Lebron & Shaq's Dance off to Kobe Bryant's Goofiness, Funniest Moments From NBA All-Star Weekend
Will moving from Philadelphia 76ers be good for him?
ADVERTISEMENT
Article continues below this ad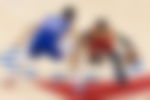 Shaquille O'Neal wasn't also afraid to say that, "his criticism is warranted". As per him, unless Ben improves on his game, no matter which team he plays for, it'll be the same old story.
Rather than settling for the player he already is, Shaq requested Simmons to strive for greatness instead. If Ben hears this out, he definitely should reconsider his thought process. Leaving forcefully won't do any good. So, the only thing that should matter right now is fixing his flaws. This isn't the first time Shaq has given his opinion on the Simmons' situation, and it probably won't be the last.
ADVERTISEMENT
Article continues below this ad