Shaquille O'Neal Once Caught The Rock Off Guard With a Taste of His Own Medicine
Published 02/16/2022, 11:23 AM EST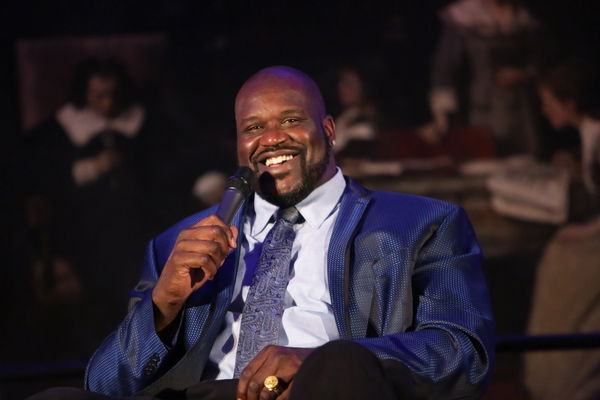 Shaquille O'Neal is known for his humorous jokes and comebacks with players and celebrities alike. So this one time, he took on wrestler turned actor The Rock.
In 2014, during a promotional appearance for his show, 'Wake Up Call', the Rock visited Inside the NBA. A video from his visit has gone viral on social media where Shaq asks Dwayne "The Rock" Johnson when the show will premiere. Johnson was going to answer the question further when Shaq shouted, "It Doesn't Matter When the Show Premieres".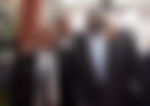 In the same clip, broadcaster Ernie Johnson went through a list of names, asking Shaq if he could beat them. The list ended with the Rock. When Johnson mentioned the former wrestler, Shaq responded: "Yeah, he too pretty".

ADVERTISEMENT
Article continues below this ad
The Rocks makes his grand entry
This is when the Rock made his entrance into the conversation, popping up behind them on the big screen of Studio J. He went on to say, "This is what happens. I have known Shaq for a long time."
The Scorpion King fame then added, "You bring my name up all of a sudden, Shaq says he could beat me. Now I know Shaq is one of the most dominant players of all time… four world championships, Gold medal, on top of that he made, 'Kazoo'… I mean "Kazaam" It doesn't matter what it is. The bottom line is Shaq can't beat me."
The Big Shamrock further asked the Rock if he thinks Shaq can beat Charles Barkley. First, the Rock responded "no," and then he asked if the 4x Champion was confident that he could handle Barkley.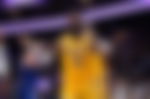 And as Shaq started explaining his perspective, the Rock cut him off in the middle and in his typical manner, said, "it doesn't matter what you think".
 

View this post on Instagram

 
Then the conversation moved towards his show, "Wake Up Call.". The show revolved around Rock waking people up at 4 a.m. and staging dramatic reunions. He would also find ways through which he can motivate people towards their goals while following a disciplined lifestyle.
ADVERTISEMENT
Article continues below this ad
Shaquille O'Neal makes his comeback against Dwayne "The Rock" Johnson
Then Shaq asked him the premier date for the show. It appeared as if he was waiting for his chance to make a comeback. And that's when O'Neal gave the Rock a taste of his own medicine. Watch it here:
ADVERTISEMENT
Article continues below this ad
Keep visiting our page for more exciting updates like this. Let us know what you think after watching this.
WATCH THIS STORY: Wife of Rams WR Van Jefferson Goes Into Labor Midway Through Super Bowl Win