Shaquille O'Neal Reveals Terrible Mishap After Attempting Tracy McGrady's Iconic Dunk
Published 02/16/2022, 12:00 PM EST In the episode of "NBA on TNT," the crew discussed Tracy McGrady's 16 years as an NBA player. In the beginning, they shared some of his famous and memorable NBA moments. While talking about Tracy's iconic dunk, Shaquille O'Neal revealed a horrible mishap he had after attempting the iconic dunk.
In the history of the NBA, Tracy McGrady was one of the greatest players. His resume includes being a seven-time All-NBA selection, a two-time NBA scoring champion, and many more accolades. It is undeniable that he was among the best players during his time in the NBA. The news cycle was full of his unbelievable dunks. Not only that, he was also known for his scoring ability. 
ADVERTISEMENT
Article continues below this ad
During a segment of the show, the panel made reference to his dunk at the 2002 NBA All-Star Game when he put on a show that brought the audience to its feet. During this conversation, Tracy McGrady shared his experience and talked about what was on his mind after this dunk.
Tracy's iconic dunk was difficult for Shaquille O'Neal to replicate
Following Tracy's retirement, fans have seen him appear on television shows. On many occasions, he has discussed the current team situation and players, as well as whatever is trending at the time.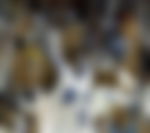 ADVERTISEMENT
Article continues below this ad
According to many, his 2002 game dunk was the most iconic and memorable performance he had ever made. As you can see, he threw the ball off the glass from the three-point line. After passing the ball with his left hand, he dunked it with his right hand while wading through traffic.
During the conversation, Shaq was asked if he had ever attempted this type of dunk. He replied saying yes to this question and mentioned what exactly happened next as follows, "Almost threw my damn shoulder out of place".
ADVERTISEMENT
Article continues below this ad
Following that, McGrady expanded his experience with performing this type of dunk. Shaq's response, however, indicates that it might be easy for Tracy McGrady to make a dunk like that not just once, but several times over the course of his career. This is not the case for other players. Chiefly, there is a reason why this dunk is so iconic and a fan favorite. What do you think after watching this? 
WATCH THIS STORY: Wife of Rams WR Van Jefferson Goes Into Labor Midway Through Super Bowl Win