Shaquille O'Neal Shares Rare Photo Of New York and Houston Legends That Feel Wrong To Any NBA Fan
Published 04/13/2022, 11:00 AM EDT

Follow Us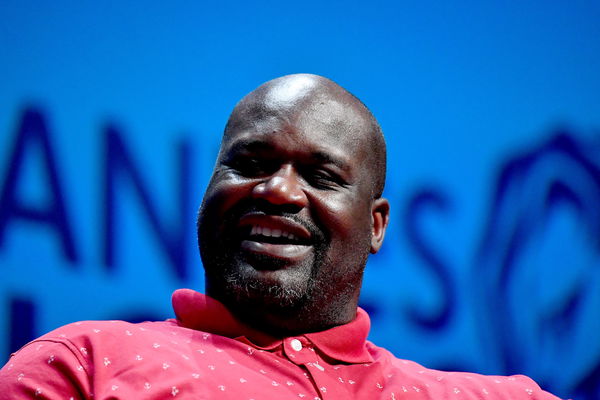 Shaquille O'Neal has done it again. One of the most influential NBA players has once again surprised us with a rare photo on his Instagram story. The picture was of Patrick Ewing and Hakeem Olajuwon. Two legends of the game who had countless memorable moments on the court. When we talk about the two legendary centers, we talk about the 1994 NBA finals.
Houston Rockets and New York Knicks faced each other in the 1994 NBA finals which turned out to be an absolute thriller. Not many NBA finals have gone right down to the wire. But this was no ordinary final. Two greats of the game in their primes battled it out for the title.
ADVERTISEMENT
Article continues below this ad
The 1994 finals went till game 7. Only a number of NBA finals have seen all 7 games being played. Patrick Ewing's New York Knicks vs Hakeem Olajuwon's Houston Rockets. The thriller finals ended with Hakeem The Dream's side emerging victorious. No game in the 7 games was a run-away win.
WATCH THIS STORY: Height comparison between Shaq and Hakeem Olajuwon.
Every game was a close game for whichever side won. Houston took the lead in the series thrice and the Knicks chased the finals making it 3-3. However, they fell short by 4 points in a thriller of a series finale. Hakeem Olajuwon won both the MVP and the Finals MVP for that season. It was his first NBA championship.
But the two legends had one season or rather one moment against each other not many have fresh in their memory.
Shaquille O'Neal shares a rare photo–Try and not feel uncomfortable
Shaq shared a post on his Instagram story and it was something that would make almost every NBA fan feel wrong. Seeing these two legends in these jerseys certainly feels unusually uncomfortable. Have a look!
 

View this post on Instagram

 
ADVERTISEMENT
Article continues below this ad
The photo seems so unusual that the fans wondered if it was real or not. It is real. It was in the season 2001-2002. Hakeem Olajuwon played with the Toronto Raptors and Patrick Ewing played with the Orlando Magic for one season from 2001 to 2002.
ADVERTISEMENT
Article continues below this ad
The fans in the comments were stunned to see the two greats in these jerseys and thought it was during the early days of photoshop. Fans were shocked, and some called it the most uncomfortable picture.
The photo was very real, much to the shock of the fans. The picture was of their match-up in the regular season on October 30, 2001. The teams met in the T.D. Waterhouse Centre in Orlando, Florida.
Edited By: Arunaditya Aima