Shaquille O'Neal Uses 6'7″ and 195lb NBA Legend to Exercise His Biceps in Unbelievable Video
Published 05/23/2022, 9:30 AM EDT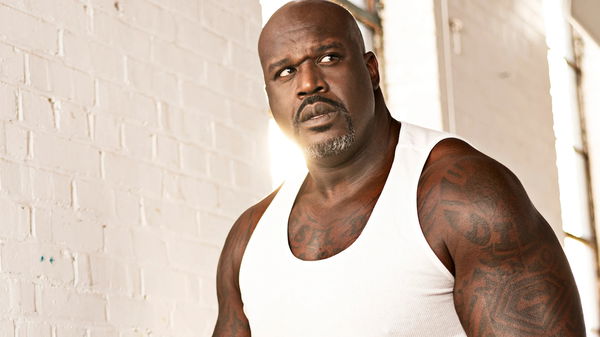 Shaquille O'Neal's greatness and dominance are etched forever in the NBA history books. His tremendous humor, on the other hand, never fails to put a smile on the faces of NBA fans. On camera, he and his colleagues on "NBA on TNT" always appear to be having a great time. When the NBA on TNT film crew shot Shaquille O'Neal and Reggie Miller in the gym, we were presented with another example of these great times.
The workout, however, devolved into tomfoolery at some point. Given Shaq's presence, however, one would have predicted this to transpire. Miller, on the other hand, wanted to test if Shaq was still the dominant force he was during his heydays with the LA Lakers. Shaq picked up the 6'7″ and 195lb Miller and curled him effortlessly at the conclusion of the session, like a lightweight dumbbell. The video was both amusing and heartwarming, and it quickly went viral.
ADVERTISEMENT
Article continues below this ad
"Raise, must be the curl, you see that? See that (Stan) Van Gundy? I'm in the gym, Van Gundy?" O'Neal said.
Four reps of one of the best shooting guards of all time and you can call it a day.
Shaquille O'Neal made it look easy
The iconic Indiana Pacers guard weighed 185 pounds during his NBA days. It's correct to conclude he's gained weight since hanging his jersey in 2005. Notwithstanding his added weight, O'Neal curled him four times while taking aim at Van Gundy.
One NBA fan compared the hilarious video to a clip from the new She-Hulk trailer, and both genuinely looked similar.
Reggie pleaded with Shaq not to drop him before trying what may be a dangerous act. His concerns, however, were unnecessary, as Shaquille O'Neal hoisted him effortlessly.
Shaq appeared to be in the best shape of his life
Shaq curled Miller with ease. However, more impressive than O'Neal's remarkable power, which was expected given his stature, was his chiseled physique. Perhaps Shaq is attempting to honor his commitment and get into peak shape.
ADVERTISEMENT
Article continues below this ad
Shaq is among the most dominant forces in NBA history. Shattering backboards, swatting shots, and frequently punishing opponents who challenged him was something he did on a nightly basis. However, Shaq would confess that fitness may not have been a priority for him, specifically as his career declined.
But that's no longer an issue, as Shaquille O'Neal seems ripped for a 50-year-old. It was quite remarkable how he managed to curl Miller, who weighs roughly around 200 pounds.
ADVERTISEMENT
Article continues below this ad
WATCH THIS STORY: Boston Celtics vs Miami Heat: Top 5 Plays
And anyway, Shaq recently admitted that he was attempting to go vegan. So, perhaps the diet and the training are beginning to pay off for the four-time champion.
Edited By: Melroy Fernandes