Shaquille O'Neal, Who Owns 172 Restaurants and 150 Car Washes, Links Takeoff's Demise and Massive Net Worth
Published 11/05/2022, 10:30 AM EDT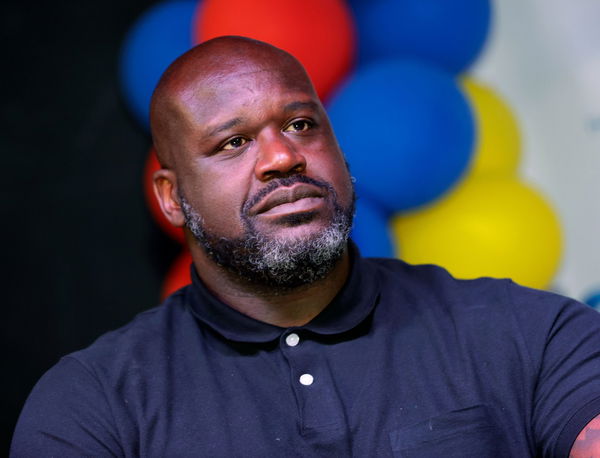 NBA legend Shaquille O'Neal recently offered his condolences to Takeoff's family and friends. Fans around the country were taken by shock by the untimely demise of the rapper Takeoff recently. Many NBA players paid their respects to the rapper and his family. Takeoff was a victim of gun violence when he was shot in Houston, Texas. He was part of the rap group Migos which consisted of Quavo and Offset as well. The whole hip-hop community was shaken to its core after the incident.
Players like LeBron James and Trae Young reacted to the news. Even some former NBA players like Jamal Crawford and Jared Dudley went on to Twitter after the news broke. And the most recent former player to pay his respects is Los Angeles Lakers legend Shaquille O'Neal. O'Neal started off his most recent podcast with a prologue about Takeoff and offered his condolences to his family and the people affected.
ADVERTISEMENT
Article continues below this ad
O'Neal, Nischelle Turner, and Spice Adams all could be seen upset over the news. Shaq mentioned that he had met Takeoff a couple of times and he was a very nice guy to meet. Shaq made it clear he did not want to start off the show laughing or giggling as they lost one of their own.
Shaquille O'Neal with a unique take on money and fame
During the podcast, Nischelle Turner asked Shaquille O'Neal about what he thinks should be done to stop gun violence in the country. Shaq pointed out how people have to change their disposition. He said, "I can't be a hypocrite. I'm a fighter, I like to fight. But not to the point where I want to take your life."
The Big Aristotle mentioned how things went down in the old days. Even if two people got into a fight, they would be okay with each other the next day. "We need to just start loving again," he added.
O'Neal had an interesting take on how money plays a big role in changing people. He said, "A lot of us, when we get this money, we get this fame, we think we better than people. Never live like that."
ADVERTISEMENT
Article continues below this ad
Shaq, despite being a millionaire, is also a down-to-earth guy. He added if a person respects him, then the person is entitled to be respected as well. And if there tends to be a problem, then just walk away.
Watch This Story – Joe Rogan once revealed the secret to 324lbs giant Shaquille O'Neal's insane transformation
ADVERTISEMENT
Article continues below this ad
The four-time champion tends to lead his life by example. And he makes sure to show respect to everyone regardless of their race, religion, caste, or gender. O'Neal did have an interesting take on how money ends up changing one's mindset and attitude. And he has made sure that he sticks to his roots and does not let that happen to him.
Do you agree with Shaquille O'Neal's take? Let us know in the comments.
Edited By: Bagavathi Eswaran