"She Has Hundred Thousand Followers": Slick Giannis Antetokounmpo Reveals His Celebrity Crush Which Might Make His Girlfriend Happy
Published 11/15/2022, 11:30 AM EST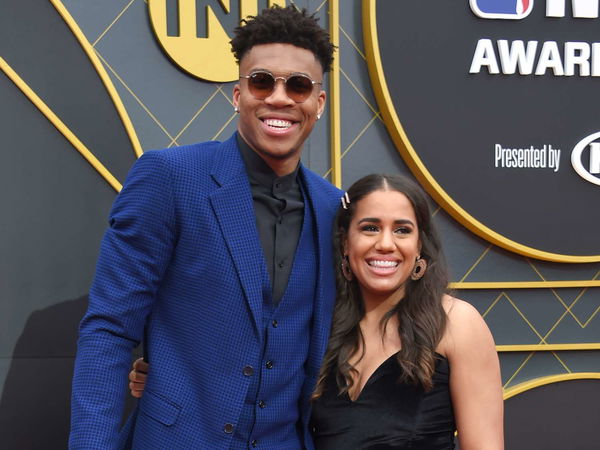 Giannis Antetokounmpo was the first guest on season 5 of Serge Ibaka's YouTube show, How hungry are you?  The episode hovered around getting to know Antetokounmpo better. In the Spicy Questions round of the episode, Antetokounmpo was asked about his celebrity crush. His answer is something that his girlfriend would completely approve of.
The Spicy Questions round dealt with personal questions. Antetokounmpo had the choice of answering them or not. However, there was a catch. Antetokounmpo was required to drink cricket tea if he refused to answer a question. On the other hand, if he did answer, then Ibaka would drink the same tea. Before the round commenced, Antetokounmpo expressed a strong dislike towards the tea. He said, "Bro this smells bro." However, he went to answer most of the questions.
ADVERTISEMENT
Article continues below this ad
Giannis Antetokounmpo names his celebrity crush
Serge Ibaka asked Antetokounmpo about his celebrity crush. Antetokounmpo stated that his girlfriend is his celebrity crush. Additionally, he explained. He said, "She's a celebrity. She has hundred, thousand followers."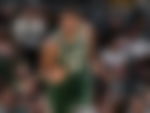 Ibaka countered this. He questioned Antetokounmpo on the definition of celebrity. He said, "Oh so these days if you have more followers you famous? Is this how it goes now?" Ibaka then followed to take a sip of the tea. Antetokounmpo was visibly proud of his answer.
 

View this post on Instagram

 
He called himself smart, taunting Ibaka as he hadn't sipped the tea yet. However, Ibaka simply remarked that he would get Antetokounmpo to drink the tea in the next few rounds.
Giannis Antetokounmpo and his longtime girlfriend share two children. The timeline of their relationship is not specified or confirmed. However, the couple lives together and often shares their love on Instagram. His girlfriend, Mariah Riddlesprigger, owns a clothing line and is pretty active on social media. She is also seen on red carpets with Antetokounmpo. 
The Milwaukee Bucks' season so far
At the start of the season, the Bucks looked unstoppable. With nine straight wins, the Bucks had everything going right for them. However, they have hit a slightly rocky road with three losses and a few injuries. Their star player, Giannis Antetokounmpo, wasn't part of the lineup in the previous two games.
Reports state that this decision was taken because of a sore knee. However, he was part of the lineup in last night's game against the Atlanta Hawks.
The Hawks beat them (Bucks) by 14 points. Trae Young and De'Andre Hunter were the stars of the game for the Hawks. Bucks' Antetokounmpo spent 31 minutes on the court and scored 27 points. Despite scoring more than 25 points, Antetokounmpo didn't have a good game.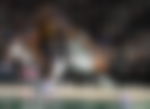 He failed to make a single three-pointer and scored only 11 of the 18 shots from the free-throw line. During the press conference, he acknowledged his game and stated that he was slowly getting back into the routine. He said, "You can't expect to be at your best when you haven't played for a week."
ADVERTISEMENT
Article continues below this ad
The Bucks look to get back to winning ways when they play the Cleveland Cavaliers next.
Watch This Story: Giannis Antetokounmpo's Historic 42-Point Performance, and Devin Booker Raining Threes vs Phoenix Suns Game 2 NBA Finals Highlights
ADVERTISEMENT
Article continues below this ad
What do you think about Giannis Antetokounmpo's answer? Let us know in the comments below.
Edited By: Jayant Chhabra