'Shut Up And Put On Your Mask': Heat's Duncan Robinson Shares an Unheard Story About Fred VanVleet
Published 01/13/2021, 5:00 AM EST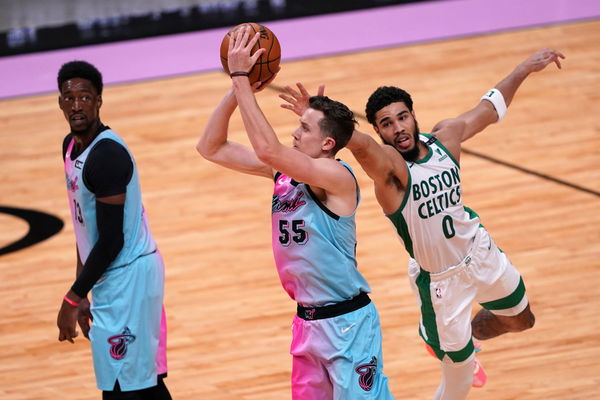 ---
---
One of the biggest joys for NBA players to play in the league is to enjoy the presence of thousands of fans in the crowd. However, due to the COVID-19 pandemic, most arenas have no fans in the buildings. But in some cases, like with the Raptors, a few thousand fans are allowed to support their teams. Speaking of which, Duncan Robinson recently shared a story about the interaction of Fred VanVleet and a fan.
ADVERTISEMENT
Article continues below this ad
Duncan Robinson has just started his new podcast labeled as "The Long Shot." Robinson said:
"I'm outside the three-point line with Fred VanVleet, and there's a fan in the crowd who's complaining about the call. And at some point he calls out Fred… and Fred just turns around and yells and the entire place hears him, 'Shut up and put on your mask.'"
ADVERTISEMENT
Article continues below this ad
In a normal game with the arenas being at full capacity, this moment would have never happened. However, as stadiums are currently almost empty, players and fans can communicate like never before.
Whatever be the case, it was an exciting moment that Duncan Robinson shared with NBA fans. Hopefully, he will keep up the hard work off the court along with terrific playing on the court.
Duncan Robinson – Possibly the only positive thing about the Miami Heat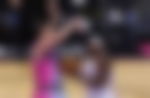 Following the recent spike in the COVID-19 cases all around the league, the Heat's lineup has been completely plagued. In a recent report, it was revealed that the Heat will have to play their next few games without at least 5 of their players.
ADVERTISEMENT
Article continues below this ad
As expected, this turned out to be true, and the Heat entered their matchup against Philly with just eight players. Despite being severely shorthanded right now, the Heat fought tooth and nail against the current best team in the East.
Additionally, Duncan Robinson played a humongous 46 minutes against the Sixers, scoring 26 points while draining 6 long range bombs. Until the Heat are back at full strength, they will have to rely on Robinson and co. for such performances.
ADVERTISEMENT
Article continues below this ad
Can the Heat remain in title contention without their leader Jimmy Butler? We will find out in the coming days.