Sixers Open Up Ben Simmons Trade Conversations – Want All-Star Player in Return
Published 07/14/2021, 2:35 AM EDT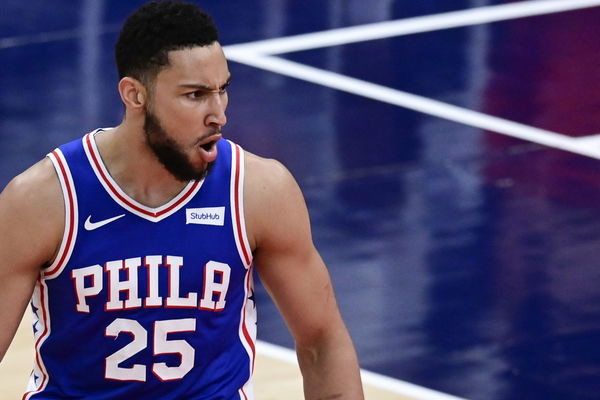 ---
---
It's been a rough stretch for Sixers guard Ben Simmons, who took the heat from basketball aficionados, following a 2nd round choke job. Rather than claiming a Hawks win, most experts flagged it as yet another blown lead for Doc Rivers and Philadelphia.
ADVERTISEMENT
Article continues below this ad
Philly, up 3-2 in the 7 game series, blew 10 & 26 point leads in consecutive games, which handed Atlanta all the confidence and momentum to make the ECF. And while the implosion occurred in quick succession post the Game 7 loss, it may be time for 76'ers GM Daryl Morey to make some tough calls this offseason.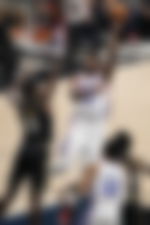 The Sixers roster, which saw them capture the 1st seed in a season where the East equaled the West in talent, flamed out against Atlanta. Simmons, who averaged 14.3ppg in the regular season, plummeted down to 11.9ppg in the playoffs.
ADVERTISEMENT
Article continues below this ad
Sixers coach Doc Rivers was asked postgame if Ben Simmons can be the point guard on a championship team.

"I don't know the answer to that right now," Rivers said.

— Marc Stein (@TheSteinLine) June 21, 2021
And while his assist and rebound averages spiked in the playoffs from 6.9apg/7.2rpg to 7.9rpg/8.8apg, his lack of a mid-range game hurt Philadelphia. Simmons through Games 5 to 7 was visibly avoiding shot attempts to minimize the bleeding. Furthermore, his inability to exploit the FT line affected his only offensive tactic of driving to the basket!
Is Ben Simmons about to be shipped from Philly?
Philadelphia ahead of the upcoming off-season is now actively shopping its all-star player. The Sixers have already opened up trade talks with multiple teams, looking for a star like Simmons for their facilitation role.
The source who aired Philly's demands for 3-time all-star told Shams that "(The 76ers) want an All-Star-caliber player in return." And while franchises can only set trade talks and free agency pitches in motion post-August 2nd, multiple teams, hunting for a player like Simmons have matched the price threshold set by the Sixers.
While it may look like this postseason damaged his stock value in the league, multiple franchises look to him as an answer for roster gaps that don't include shooting! Even with his shooting woes, Simmons is a 1-time All-NBA and 2-time All-Defensive member, with a realistic shot at DPOY.
ADVERTISEMENT
Article continues below this ad
The former Rookie of the Year in 2017-18 currently has 3 years left in his contract. He also brings certain skills to the table which will perfectly fit with the likes of
KD
and
Harden
in
Brooklyn
or
Steph
and
Klay
in
Golden State
, given their pure shooting ability.  
Considering that Simmons passed on a trip to Tokyo this summer with Team Australia, he clearly hears all the slander and is ready to put in the work this offseason. Will the 2021-22 season unveil a re-modeled Ben Simmons to the basketball world?
The more pertinent question rather is will he still don a Sixers jersey come October, or have the Sixers seen enough to ship him off and make a fresh start?
ADVERTISEMENT
Article continues below this ad
Watch this story – Atlanta Hawks vs Philadelphia 76ers Game 7 ECSF Highlights