Skip Bayless Highlights the Major Flaw in Lakers' Rajon Rondo Plan
Published 08/30/2021, 4:32 PM EDT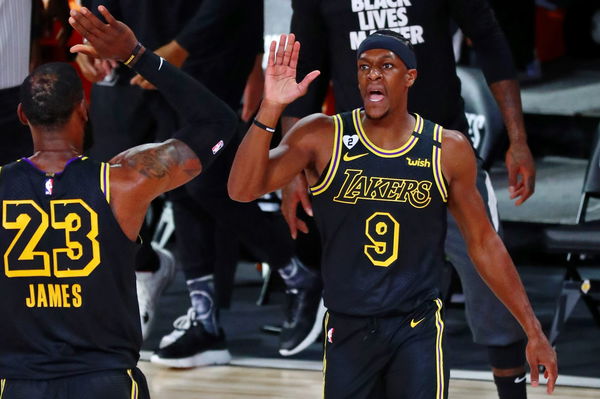 ---
---
Rajon Rondo is all set to return to Hollywood this summer. Following 2 seasons and 1 championship with the Purple and Gold, Rondo found himself on the 'team in the basement' at Staples Center. Moving on from what most consider a season-long hiatus, he returns for his 2nd stint with the Lakers. The PG, traded to Memphis as part of a deal for Eric Bledsoe, was recently bought out by the Grizzlies.
ADVERTISEMENT
Article continues below this ad
And what's better than creating history chasing title #18, and coincidentally, trumping his former franchise in the process! However, while everyone is sold on the Rondo acquisition, Fox Sports analyst Skip Bayless isn't impressed one bit.
Surprise surprise! After parading the veteran's move to the Clippers at the trade deadline last season, Bayless now turned around to trash the Lakers' latest move.
ADVERTISEMENT
Article continues below this ad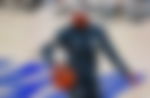 Is Bayless right about the Lakers' fit?
On the latest episode of 'Undisputed' on Fox Sports 1, Bayless went back and forth with NBA analyst Shannon Sharpe over the move. Bayless said, "Is LeBron going to be playing off the ball? There's another guy named Westbrook who has to have the ball in his hands. So they're gonna play with 2 basketballs? I don't know!"
Report: Rajon Rondo likely to sign with Lakers after buyout

"This is a good move, until you remember that Rondo is backing up Russell Westbrook, who does not like to come out of games. Will the Lakers be playing with two basketballs?" — @RealSkipBayless pic.twitter.com/Bdpnr129VP

— FOX Sports (@FOXSports) August 30, 2021
Already giving a verdict on a move, he himself called the Hail Mary for his L.A. Clippers, Skip said – "I'm predicting it's going to blow up in their face." 
Attempting to back his argument with logic, Bayless gave a take saying, "There was nobody named Russell Westbrook in the bubble. He disqualifies every good move GM LeBron made this year. And that's another good move, until you remember he's backing up Russell Westbrook, who does not like coming out of games. He wants to play high mins, he wants to play 40 plus."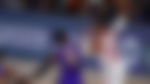 Addressing the potential fallout, Skip commented – "If he isn't he's going to be unhappy, so you'll have 2 unhappy campers. Is that what the Lakers want?"
And finally, responding to Sharpe's argument about the "sacrifice" speech, Bayless took a dig at Westbrook saying, "It's about sacrifice? He always says that preseason," then sarcastically commenting "Watch!" 
Is Bayless right? With Westbrook and LeBron both ball dominant, it will come down to 'Who does LeBron James trust more in the closing minutes of a ball game'? The answer already lies in an over beaten drum in possibly the biggest chemistry experiment of the modern era; sacrifice!
How badly do you want to win an NBA championship?
Is this just another one of Skip's "I'm a hater" moments?
ADVERTISEMENT
Article continues below this ad
Congrats, Clippers, you just won your first NBA championship. You finally got Rondo, the magic move I campaigned for through the offseason. He got his cake (bigger salary from Atl) and eat it too (starting PG for the Clips). He can go Deion Sanders (win one for SF then Dallas).

— Skip Bayless (@RealSkipBayless) March 26, 2021
Skip, after gloating all of last year's playoffs about the move as a championship sealer, considering Rondo would immediately "lift" the Clippers now turned around to bash the Lakers. But, as things turned out, all Rajon brought to the table with the Clippers was confrontation with Kawhi and poor performances.
ADVERTISEMENT
Article continues below this ad
And since then, it was 1 DNP coach's decision after another. Will Rondo stick it to the Clippers this year by returning to his old ways as 'Playoff Rondo'? If he does, it won't be the first time someone excelled both before and after, but not during their time in "Kawhi-town!"
WATCH THIS STORY: Michael Jordan, Kevin Durant & Other NBA Players That Forced The League to Change Rules