'Small Person': Hall of Famer Isiah Thomas Bids Respect to the Excellence of Chris Paul in 2021 NBA Playoffs
Published 07/25/2021, 9:54 PM EDT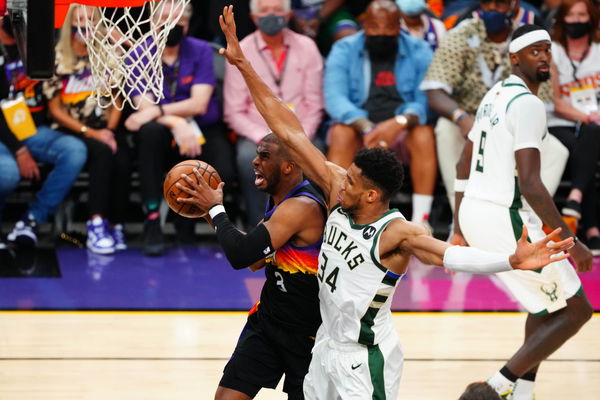 ---
---
Chris Paul, a 36-YO veteran and future first-ballot Hall of Famer, is far from done. If anything, his NBA Finals trip as a Phoenix Suns player must've only made him more certain that a championship ring is inevitable. However, the vet's performance in the same series also allowed his critics to raise fingers of doubt on him.
ADVERTISEMENT
Article continues below this ad
During the finals against the Bucks, everyone knew that the Suns won't win if Chris Paul does not put forth four unforgettable performances. Since that failed to happen, the critics forced clouds of doubt over the star. But there's a former legend who can sympathise with CP3 in a more personal way.
ADVERTISEMENT
Article continues below this ad
Isiah Thomas has the back of Phoenix Suns' Chris Paul
The NBA is the league where big men like Dirk Nowitzki, LeBron James, and Shaquille O'Neal dominate. So at 6-ft, Chris Paul stands with the minority of athletes who are short and yet impressive. 
12x All-Star Isiah Thomas acknowledged this when he detailed, "Chris was excellent in the series… As a small person I know how difficult it is to do what he has been asked to do, playing against bigger people and trying to win. What Chris was able to do in Game 1 and 2, he wasn't able to do in 3, 4, 5, & 6. But getting the Phoenix Suns to the NBA Finals as a small person."
True, CP3 enjoyed a 32-point game 1 and then saw his performance degrading every night. Yet, for him to deliver such numbers against Brook Lopez (7"), Giannis Antetokounmpo (6'11"), Khris Middleton (6'7"), PJ Tucker (6' 5"), and Jrue Holiday (6'3") was huge. The star point guard averaged close to 22 points in the NBA Finals, which was nothing short of an achievement.
"I'm grateful and I feel for (our guys). But I also expressed to them, now we know what it takes to get here."

Though the Suns' 2020-21 season ended in heartbreak in the NBA Finals, their emphatic resurgence was a triumph.

Read more on this breakthrough journey 👇

— Phoenix Suns (@Suns) July 21, 2021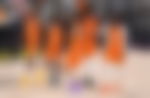 Which other short players were equally impressive?
While there are always the names like Muggsy Bogues, Nate Robinson, and Isiah Thomas to count, none of these achieved huge success. However, there were a few who did.
As Isiah further expressed, "John Stockton was able to do that in Utah a couple of times. We watched Jason Kidd taking the Nets to finals a couple of times. But Jason Kidd is a little bigger than myself, Chris, Stockton… From the point guard position how it's traditionally played, it's only three of us, that got to the NBA Finals playing this way."
ADVERTISEMENT
Article continues below this ad
John Stockton failed to win a ring in his Hall of Fame career and many fear the same fate for CP3. But Isiah's further comments still give hope that Chris Paul is a wonder and that he can always come back. As the retired star added, "we've talked about Curry and we've talked about Frazier. Not only were they bigger… they were more off the ball than on the ball. Paul, Stockton, and me were 90-95% in the decision making that goes into the offense. Being small the way Paul was… getting to the NBA Finals, it's not easy."
ADVERTISEMENT
Article continues below this ad
So what do you think, can Chris Paul (maybe with the Lakers) win a ring in the coming year? Help us know in the comments.
Watch this story – Suns' Chris Paul's Incredible Game 1 Performance Against the Milwaukee Bucks