Snoop Dogg Reigniting LeBron James Beef With Ja Morant Gets the Lakers Superstar Trolled by NBA Fans: "LeBron Got His Feelings Hurt?"
Published 01/21/2023, 6:50 AM EST
The game between the Los Angeles Lakers and the Memphis Grizzlies got pretty heated on the sidelines. A fight broke out between NFL veteran and analyst Shannon Sharpe and the entire Grizzlies team at half-time. However, the momentum quickly shifted from that to a heated argument between Sharpe and Tee Morant, Ja Morant's father. Now even though, the two ended their beef right after the game, longtime Lakers celebrity fan Snoop Dogg may have reignited an old beef between LeBron James and the Memphis Grizzlies. 
During last year's campaign, LeBron James and Desmond Bane had gotten into it during a game between the two teams. Bane had just converted an and-one and felt confident enough to trash-talk 'King James.'
LeBron James got trolled once again
ADVERTISEMENT
Article continues below this ad
The game ended with the Grizzlies taking home the win, 127-119, but it wasn't without an effort from LeBron James as he was arguably the only one putting up a fight. James was the only starter who had scored in double-digits in that game against Memphis.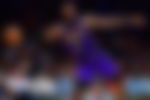 Now with another scuffle taking place during the Lakers-Grizzlies game recently, Snoop Dogg may have been adding fuel to the fire. Snoop Dogg went on to his official Instagram account to highlight the year-old scuffle between James and Desmond Bane.
Though the legendary rapper only captioned the video, "Wow," fans had other opinions in mind. One fan commented, "Kids these days."
Another fan commented, "LeBron get his feelings hurt? Kobe would've welcomed that trash talkin and talked sh*t right back and made them cry. Glad Bron got his dunk in, but he's gotta stop being so sensitive."
 

View this post on Instagram

 
Here are some more reactions from fans on Instagram:
"They lost that game by 30 points too, let's see the dunks Ja had lmaooo."
"LeBron is too mentally sensitive which is why I don't think he would've been the dominant player he's been today back in the 80's & 90's. They would've had him for lunch Regardless, they lost the game and everyone knows the best way to shut someone up is to WIN!!! Lol."
ADVERTISEMENT
Article continues below this ad
"Maybe he should play more mad so we can actually start winning some."
"They blew us out after this smh..Desmond earned the right to talk shit that night."
Watch This Story – Stepping over Draymond Green, clawing at Patrick Beverly, and other moments when LeBron James completely lost his cool
ADVERTISEMENT
Article continues below this ad
Fans seemingly trolled and slammed LeBron James, reminding everyone that they still ended up losing that game.
What did you make of the post shared by Snoop Dogg? Let us know in the comments below.