"Spelling Bee Champ" Shaquille O'Neal, Who Got a Doctorate Just to Gain Respect, Makes Peculiar Middle School Admission
Published 11/18/2022, 10:50 AM EST Shaquille O'Neal has always been a competitive person, whether it's in the NBA or in high school competitions. However, sometimes things don't go as planned even for the best. Sometimes, it is because of your own mistakes and sometimes of someone else's mistakes. But sometimes people just don't want you to win. That's what happened to Shaq in middle school when he was on the verge of winning the spelling bee.
Recently, NBA on TNT aired a new episode of  "The Big Podcast with Shaq." During the podcast, one of the co-hosts Nischelle Turner reminded the audience about an incident that happened with Shaq in fourth grade. The tale goes like this. When Shaq was on the verge of winning a 'spelling bee' championship in middle school, the judge faked an accent to derail Shaq's winning attempt.
ADVERTISEMENT
Article continues below this ad
"He was supposed to be the spelling bee champ but he was side-swiped because the lady had an accent and screwed him over for the next little girl. And didn't have an accent for her," Nischelle revealed the story, that the Big Diesel claims to be true. According to Shaq, the story has been attested by his mother, Lucille O'Neal.
Therefore, Shaq's competitor was a girl and the lady judge faked an accent. This ended up giving an unfair advantage to the girl and snatching the winning opportunity from Shaq. As the story ended, fans could see the panel of Spice Adams, Von Miller, Shaq, and Turner busting in laughter.
Shaquille O'Neal holds a doctorate degree
ADVERTISEMENT
Article continues below this ad
Shaq made sure to finish the tasks he started. For example, Shaq dropped out of LSU in order to pursue his NBA career. However, he returned as a basketball legend and did his bachelor's, then master's. And the cherry on top was his doctorate degree from Barry University, Florida. The Los Angeles Lakers legend earned his doctoral degree in organizational learning and leadership with a specialization in human resource development. Shaq always upholds education among young people because it's necessary to gain respect from peers.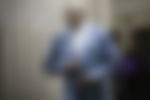 Well, this is not the end, Shaq has some strict norms for his kids. He is a believer in respected nepotism so in order the get their hand on Shaq's $400 million fortune, his kids need to present him with 3 degrees. And in this the world can't blame Shaq for being too strict, because he himself has earned the milestone. Shaquille O'Neal is an absolute all-rounder. This is what makes him unique and loveable from the other basketball legends.
ADVERTISEMENT
Article continues below this ad
WATCH THIS STORY: Here's how Ben Simmons, LeBron James, Shaquille O'Neal, and other NBA stars spent their first paychecks 
What is your favorite Shaquille O'Neal moment? Do tell us in the comment section below.
Edited By: Satagni Sikder