'Steal That From Him': Lakers' Anthony Davis Attributes His Dangerous Moves to Marc Gasol
Published 01/03/2021, 11:26 PM EST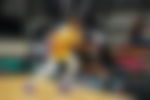 ---
---
The Los Angeles Lakers climbed back on the top 3 of the Western Conference with their win over the Memphis Grizzlies. At 5-2, the Lakers are now on a three match winning streak. Even though the purple and gold outfit had a lousy start to the game, they finished it off in style. 
ADVERTISEMENT
Article continues below this ad
One positive takeaway for the Lakers from this game was the contribution from the rotation players. This was not a game where their star duo would chip in another 60 points to make it look like a cakewalk. Instead, a lot of work was delegated to the bench that finally delivered. 
Anthony Davis took a back seat for all the right reasons
ADVERTISEMENT
Article continues below this ad
The Lakers' star forward Anthony Davis is not averaging points as he did in the last year with the team. In fact, he is trying to make more plays, finding those open players and using his clear vision to keep the scoreboard running. This way, he is not just assisting the unit to do better but is also letting the players know that he trusts their shooting skills. 
In the post-game interview, AD proudly expressed, "I'm just trying to add more to my game. I know a lot of teams try to double, just to make me get a different look and not score. So, the best way to beat a double team is to find an open guy. And our guys are making shots. I do my job… find the right guy, whether he's in front of me, or side corner, or in the middle, whatever it is I gotta break it. That's how you make the team better. I haven't been scoring like I used to, but I've been making the right plays."
He credited new Lakers entrant and NBA veteran, Marc Gasol, for his transforming style. Interestingly, Davis has been stealing a trick or two from the star center.
Anthony Davis on averaging career-high in assists & Marc Gasol's role in that: "And it's good that I have Marc here because I've been learning a lot from Marc as far as passing bigs from the top, the elbow, from the post. Just trying to figure out ways to steal that from him…" pic.twitter.com/ZqHeZ6MDjY

— Ryan Ward (@RyanWardLA) January 4, 2021
The Lakers bench showed that they are dependable
LeBron James had his magic moments in the game and looked every bit younger (than his age) and impressively athletic. He did add a double-double with points and rebounds, but that was not enough for their boat to sail.
ADVERTISEMENT
Article continues below this ad
It was Wesley Matthews with his four three-pointers and 5/7 from the field that surprised the Grizzles. Also, Montrezl Harrell looked dangerous as he added 16 points, 9 rebounds, and 2 steals with an FG% of 63.63.
Kyle Kuzma added strength to the defense alongside AD while Marc Gasol and Dennis Schroder took charge of assisting. Dennis looked rusty from the field and missed all his threes, but he transitioned that flaw into a strength by finding the right plays. 
The Lakers will next play the Grizzlies again and it looks like that game will stretch their winning streak to four. Do you agree with this prediction? Help us know in the comments.
ADVERTISEMENT
Article continues below this ad
Read also – 'Logo LeBron': Twitter Goes Bizarre as LeBron James Hits a Deep Dagger Against Grizzlies