'Steph and Dame Debate Needs to Stop': Twitter Reacts to Stephen Curry Destroying Damian Lillard and Blazers Again
Published 11/27/2021, 2:24 AM EST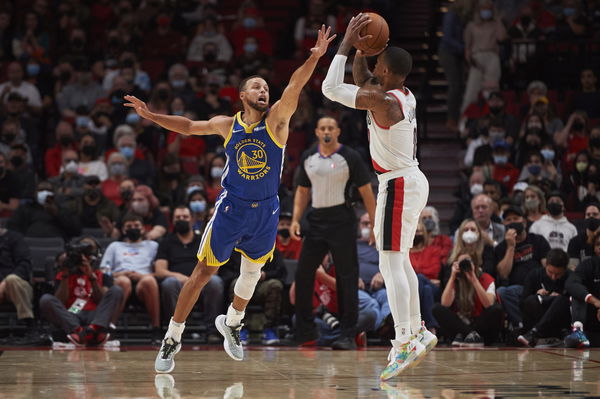 The Golden State Warriors look to continue their dream start. They are taking on the Portland Trail Blazers looking to continue their win streak. Stephen Curry and co have been on fire for the season so far. Moreover, with Klay Thompson closer than ever to return, the Warriors are bad news for any opponent. However, after a poor game for Dame, fans want him out of the discussion with Steph.
The Trail Blazers got off to a bad start to the season, but have seemed to pick it up. Notably, Damian Lillard has caught back, which has become the main reason for their resurgence. Their recent loss to the Sacramento Kings snapped their four-game winning streak. Currently, 10-9 for the season, Lillard and the Trail Blazers have their work cut out for them.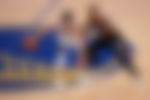 But after having a series of good games, Damian Lillard went cold against the Warriors. And fans were not kind to his comparisons with Steph.
ADVERTISEMENT
Article continues below this ad
WATCH THIS STORY: NBA Players Kevin Durant, Joel Embiid & Others Share Their Opinion About the New Wilson Basketball
Fans say never compare Damian Lillard with Stephen Curry
Generally, a great battle takes place between Lillard and Curry. However, tonight it was all Curry as Dame struggled from the field. His poor display saw Twitter users come to the surface and attack the notion of comparisons to Stephen Curry.
Steph owning Dame yet again…. I still ain't forgive y'all for making it seem like that was a debatable matchup LMFAOOOOOO

— Nick (@MightMayBNick) November 27, 2021
Somebody once tried to tell me Dame was more Clutch than Steph?

— 𝔹𝕒𝕤𝕜𝕖𝕥𝕓𝕒𝕝𝕝 𝕋𝕒𝕝𝕜™🏀🏆 (@LetsTalkBucketz) November 27, 2021
steph is closer to mj than dame is to him btw

— sean (80-2) (@StephHesi) November 27, 2021
This Steph and dame debate needs to stop,it should've never happened in the first place

— chef curry (@baby_face_goat) November 27, 2021
It surely was a game to forget for Dame as he shot just 33% from the field. He was not feeling his shot and didn't see anything go in. However, that does not take away from his greatness. Dame is one of the coldest players in the NBA and his clutch gene is probably the best. One bad game won't change that.
ADVERTISEMENT
Article continues below this ad
Coming to his comparisons with Curry, they both are great shooters. Chiefly, they are elite point guards in their own right. Both of them have proved time and again why they are top players. Hence, a few bad games won't affect their resume in any way.
With the game, the Trail Blazers struggled to get it going as a team itself shooting under 50% from the field. Lillard knocked down just 2 three's, both coming in their effort to bounce back in the fourth quarter. His counterpart CJ McCollum also struggled to get things going for himself. For Stephen Curry, he had yet another night to remember as he took over in the fourth quarter.
ADVERTISEMENT
Article continues below this ad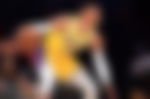 Who do you think is better? Let us know in the comments below.